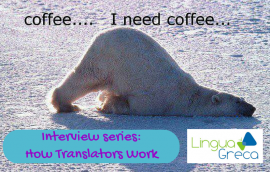 This series of posts was inspired by Lifehacker's How I Work series, which I've been reading for quite some time and thoroughly enjoy. It's about time we discover how our colleagues work and get to know them a little better.
If you want to participate in this fun series, email us at info@linguagreca.com for the Word template where you can fill in your answers & bio (incl. site/blog/social media) and then send it back to us as an attachment along with your photo (optional but preferred). If you don't like any of the questions, just delete them and add your own. Check out the previous interviews here.
Location: Currently Belfast (Northern Ireland), but I'm moving to Bristol (England) very soon!
Desired location: It doesn't matter as long as it's a vibrant place with easy access to a local cinema and convenient flight connections to Poland.
Current work title: Polish English translator and interpreter at Your Polish Translator.
Desired work title: I don't know yet, but definitely related to facilitating communication between people in some way.
Languages you have studied or currently speak: My language pair is English and Polish… and then there is a long list of rusty or (almost) forgotten languages: Spanish, Russian, German, French and Latin, which do come handy every once in a while. My current goal is to learn Flemish/Dutch to at least a communicative level.
The project you're most proud of: Still to come, but it's too early to talk about any details.
Your current computer setup: My main computer is an Asus PC. When I'm on the go, I use an 11" Dell laptop, which can also convert into a tablet, if needed.
Do you own a smartphone? Yes, I can't imagine being out of office these days without one.
Favorite time of the day: It depends on the day, really.
Favorite gadget (apart from computer & smartphone): Definitely my Moleskine diary. Despite being addicted to technology, I still haven't discovered the skill of checking my Google calendar whilst on a phone call.
Next conference/event you're planning to attend: CIOL Members' Day.
How many hours per day do you usually work: Since I've been combining working with studying for a few years now, I'm not the best person to ask about managing a work/life balance. However, I've promised myself I will change that.
Are you an introvert or an extrovert? Even if some people wouldn't agree, I still think I'm a (stereo) typical introvert. I'm trying to behave, though, when among people and socialise 🙂
Are you an early-riser or a night-owl? It depends, but I'm protecting my right to have seven hours of sleep.
What do you listen to while you work? When I'm translating, I prefer silence. But, when I'm focusing on other work, then I usually listen to jazz.
And a few non-work related questions to get more personal.
Next city/country you want to visit: It looks like it's going to be Bristol. A few weeks later I'm heading to Poland and by the end of the year I'll be in Belgium with a stop in France first.
Favorite vacation place: The one I haven't been to. I love visiting new places, meeting local people and trying new food. Any place where I can experience the otherness and go beyond what I know.
Favorite book: I have never read the same book twice; there are so many of them out there.
Favorite song: I love the whole album by The Kings of Convenience "Riot on an Empty Street" – I usually listen to it when I'm driving.
What are you currently reading? I've just finished writing my dissertation and there is a whole list of books waiting to be read!
Author bio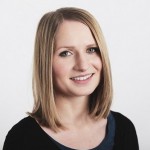 Kasia Pranke is a Polish English translator based in the UK, a member of the Chartered Institute of Linguists. You can find her on Twitter and LinkedIn.
You may also like