You Create, We Translate
Welcome to Lingua Greca Translations, your premium online source for Greek technical translations. We are a boutique single language provider (it's all about Greek!) offering translation services in the following language combinations:
English <-> Greek

French <-> Greek

German <-> Greek
If you are based in Canada and require a Greek into English certified translation of personal documents (e.g. certificates, statements, etc.), please visit ATIO's (Association of Translators and Interpreters of Ontario) directory.
Based on a recent survey, 75% of global consumers prefer to buy products in their native language and 60%
rarely or never buy

from English-only websites.
The localization of products, websites, applications, manuals and other communications boosts global brand recognition and drives international business growth.
Why Choose Us
With our expert services, your document, software, manual or promotional materials will be specifically written for the
target market

.
Lingua Greca in a nutshell
Lingua Greca Translations was founded in 2012 by Catherine Christaki and Christos Floros and it is a one-stop shop for Greek translation services. We help businesses from all over the world communicate with their Greek-speaking clients, employees and stockholders.
Our collaboration with leading IT companies worldwide has given us solid experience in localizing websites and applications for companies seeking to reach a wider audience and increase customer satisfaction. We have over 15 years experience in translating technical manuals for medical equipment and have helped more than 25 manufacturers in over 10 countries worldwide increase customer satisfaction and sales in the Greek market.
We apply the 'four-eyes' principle to all projects: one linguist translates the source text into his/her native language and a second linguist proofreads the translation, including LQA (Linguistic Quality Assurance), usually done in-house.
Our philosophy
We are the Greek translation services provider you can depend on.
Our approach involves personalized service and flexible working hours that accommodate clients in Europe and America, with the support of a strapping network of select, highly-specialized Greek translators.
We will help you get the right message across.
Our reputation for excellence and devotion to our client's needs speaks for itself. Customer care is one of our top priorities, so we are here to help even after delivery of the translation project.
We can be reached 24/7 any time of the year, including holidays. Furthermore, rest assured that your sensitive information will be treated with the utmost confidentiality.
Make the right choices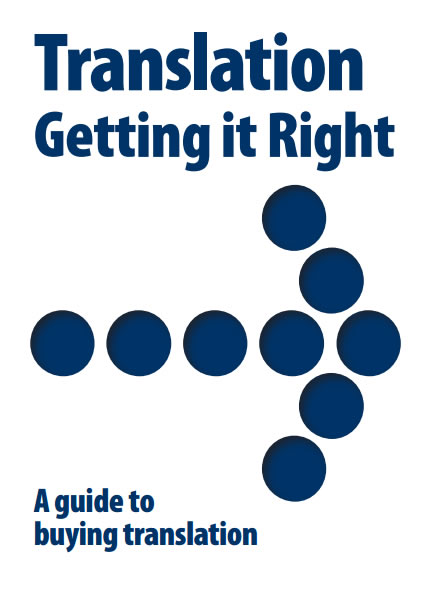 Before investing in translations, you might have questions. Or maybe you've had less than ideal experiences with translators and you're looking for advice so that you can avoid making the same mistakes.
You'll find useful tips in the popular guide for translation buyers, Translation: Getting It Right, which we have translated into Greek. This guide is an excellent tool for company owners and marketing executives, with helpful tips for making the right decisions when it comes to buying translations.
You can download the English or the Greek guide in PDF format here.
Clients
Hundreds of organizations and companies worldwide have entrusted us with their translation projects, either directly or through the translation agencies we cooperate with. Check out Our Work to see some of our clients per sector.
Bringing You More
Our site also offers an informative blog covering a wide array of subjects including translation, languages, interpreting, blogging, social media and business. We welcome post contributions and publish a weekly round-up of interesting links that we have shared on Twitter.
We continually offer reliable, up-to-date articles designed to inform, empower and entertain you along the way.
Popular Posts
We Love Twitter
We are active on social media, especially on Twitter @LinguaGreca, which has been voted among the Top 25 Twitterers 6 years in a row (2011-2016) in the Language Lovers competition.
The Top 100 Language Lovers is the largest competition for language enthusiasts! It is aimed at finding the best blogs, Facebook pages and Twitterers with a passion for languages.
If you need a trusted, reliable Greek translation provider, look no further.
Get in touch today for a free quote!
Contact us