Tips for translation buyers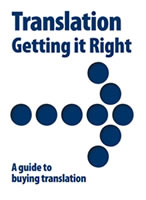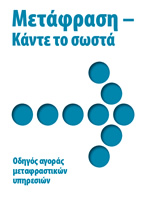 Finding a translation provider that works for you and takes your texts global is challenging. Making the right decisions is crucial when it comes to your materials and their cultural implications in another language. Don't let this process be costly and frustrating!
We're here to answer your questions and provide tips that will help you at every stage of the translation process — before, during, and after. Most importantly, the tips and resources offered below will save you time and money.
We recommend you spend a few minutes reading the booklet Translation: Getting It Right, A guide to buying translations.
This popular mini-guide for translation buyers was developed by Chris Durban for the U.K.'s Institute of Translation and Interpreting and it is supported by many translation associations worldwide, including the following:
American Translators Association (USA)
Institute of Translation and Interpreting (UK)
Asociación Española de Traductores, Correctores e Intérpretes (Spain)
Panhellenic Association of Professional Translators Graduates of the Ionian University (Greece)
Panhellenic Association of Translators (Greece)
Société française des traducteurs (France)
In 2013 we had the honor of translating this guide into Greek — Μετάφραση: Κάντε το σωστά – Οδηγός αγοράς μεταφραστικών υπηρεσιών — to support our international clients and help them make informed decisions when it comes to translating their resources for Greek markets and speakers.
To download the English or Greek version of the guide, please fill out the form below. We'll send you the guide as a PDF attachment via email.
You'll find answers and tips on the following:
Translation, interpreting —what's the difference?
Does it really need to be translated?
Think international from the start
How much will it cost?
Resist the temptation to do it yourself
What about translation software?
Tell the translator what it's for
An inquisitive translator is good news
Translators and bilinguals: look closer
Choosing a translation provider
But wait, there's more!
With translation buyers in mind, we've prepared a question and answer file that covers all the most frequently asked questions from clients needing translation. Click to read our tips in the FAQ for Translation Buyers or download the file as a PDF.
Below you'll find more online resources with tips for translation buyers.
Must-watch funny YouTube video: The Vendor Client relationship in real world situations
Checklist Lost in Translation? An 11-Step Checklist for Localizing Content by the Content Marketing Institute