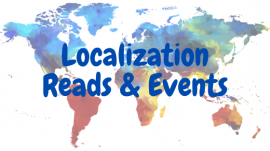 Our Translation Favorites series has a new name and an updated look! Apart from great reads on translation, localization and languages, we'll be featuring unmissable (mostly related to languages, translation & localization) events that you can join for free. Click here to read Translation Favorites from previous years, and here for the Localization Reads & Events archive.
If you've read a fabulous post or you are hosting/attending an awesome free event, please email us at info@linguagreca.com so we can add your link or event in next week's list.
Upcoming free online events
Translation, Localization, Languages
3 books in translation that have received acclaim in their original languages
Why Inclusion and Empathy Matter for Quality Software Development
[Global Ambitions podcast] Centralizing Localization at Shopify
The language revolution: How LLMs could transform the world
Localization business insights: The Multiple Paths to Growth
Top 10 details to include in the ideal transcreation brief
The March Towards AI Singularity and Why It Matters
Business, Tech and other interesting posts
Understanding Time Travel and Quantum Physics for Anyone: A Guide to Enjoying Sci-Fi Movies and Shows
Singularity: Here's When Humanity Will Reach It, New Data Shows
How Many Words Per Minute Does the Average Person Speak?
The Benefits of Micromanaging the Process Instead of People
Generative AI may only be a foreshock to AI singularity
You may also like