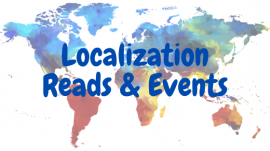 Our Translation Favorites series has a new name and an updated look! Apart from great reads on translation, localization and languages, we'll be featuring unmissable (mostly related to languages, translation & localization) events that you can join for free. Click here to read Translation Favorites from previous years, and here for the Localization Reads & Events archive.
If you've read a fabulous post or you are hosting/attending an awesome free event, please email us at info@linguagreca.com so we can add your link or event in next week's list.
Upcoming free online events
Translation, Localization, Languages
The Localization, Explained collection – 10 more reasons to love Localization
Inclusive writing – Guidelines and resources – Language Portal of Canada
On the Origin of LangOps: The evolution of the localization roadmap
How Do You Localize a Font? A conversation with Gerry Leonidas
LangOps: Pipe Dream, LSP´s Heaven or Just a New Hashtag?
TWC58 Games Episode: League of the Lexicon
Building a Multilingual SEO Program
Around the web – December 2022
Interpreting Is a Performance Art
Ποδαρικό στα μεζεδάκια του 2023 « Οι λέξεις έχουν τη δική τους ιστορία
Business, Tech and other interesting posts
Something Borrowed: The New York Public Library's Most Checked-Out Books of 2022
What Is Time: 200 Years of Ravishing Reflections, from Borges to Nina Simone
The Best Books of 2022—And What We're Looking Forward to in 2023
🔥 Top A.I. Newsletters of 2023 🧠🐱‍💻🤖🚗🚀
10 Unusual Libraries From Around the World
Taking Ownership of Entry Level Positions
World Kid Lit: The Best of 2022
You may also like