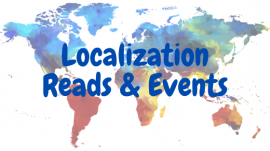 Our Translation Favorites series has a new name and updated look! Apart from great reads on translation, localization and languages, we'll be featuring unmissable (mostly related to languages, translation & localization) events that you can join for free. Click here to read Translation Favorites from previous years, and here for the Localization Reads & Events archive.
If you've read a fabulous post or you are hosting/attending an awesome free event, please email us at info@linguagreca.com so we can add your link or event in next week's list.
Upcoming free online events
Translation, Localization, Languages
[Thrive in Global Markets podcast] Adobe's International Strategy with Priscilla Knoble
AutoRegex: Convert from English to RegEx with Natural Language Processing
Is the Pen Mightier than the Sword, or How Much Do Words Really Matter?
5 translated books from Japan to soothe battered souls this fall
Translation Pricing With Joseph Lambert and Callum Walker
Game Translation: Insights from a Freelance Translator
The best recent translated fiction – review roundup
Business, Tech and other interesting posts
The Myths of Lady Rochford, Tudor Noblewoman Who 'Betrayed' George and Anne Boleyn
From Lists to Love Letters, What Do People Leave Behind in Library Books?
Business Acumen Interview Questions: What They Are & How to Answer Them
You may also like