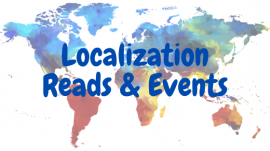 Our Translation Favorites series has a new name and updated look! Apart from great reads on translation, localization and languages, we'll be featuring unmissable (mostly related to languages, translation & localization) events that you can join for free. Click here to read Translation Favorites from previous years, and here for the Localization Reads & Events archive.
If you've read a fabulous post or you are hosting/attending an awesome free event, please email us at info@linguagreca.com so we can add your link or event in next week's list.
Upcoming free online events
Translation, Localization, Languages
A Year of Recovery in the Language Industry – and Just About Everywhere Else
The 2022 National Book Awards Longlist: Translated Literature
Hot Summer 2022 New Releases by Women in Translation
Around the web – September and October 2022
Loss of Natural Language with Monika Schmid
What Comes after #NameTheTranslator?
The Localization Tech Stack Evolution
Uber's Global Aspects with Pia Bresnan
Business, Tech and other interesting posts
Adding power words to your B2B SaaS website headlines won't fix conversions. Do this instead.
Balancing Act: Caring for Someone with Dementia While Keeping a Practice Afloat
How to create content with the help of artificial intelligence
Leveling up your Presentation Skills #WorkshopWednesday
[Because Language] The Crossworld (with Hayley Gold)
The Problem With Getting Introductions On LinkedIn
Book recommendation: "Deep Work" by Cal Newport
3 Ways to Use Testimonials When You Have NDAs
You may also like