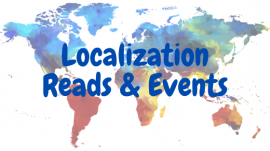 Our Translation Favorites series has a new name and an updated look! Apart from great reads on translation, localization and languages, we'll be featuring unmissable (mostly related to languages, translation & localization) events that you can join for free. Click here to read Translation Favorites from previous years, and here for the Localization Reads & Events archive.
If you've read a fabulous post or you are hosting/attending an awesome free event, please email us at info@linguagreca.com so we can add your link or event in next week's list.
Upcoming free online events
Translation, Localization, Languages
Ideas on what a Localization leader can do to build a high-functioning Localization team in the first months in a new role
Localization Leadership Excellence in Action – Tips From an Expert to Build Your Center of Excellence
Future-proof your Localization career and remain relevant by becoming a T-shaped professional
[The Localization Podcast #52] A Look Into Localization Testing – Nicolas Gerard From Symbio
Internationalization vs. Localization: The Difference Between #l10n and #I18n
A translator's responsibilities are as formidable as a transplant surgeon's
Too much trust in machine translation could have deadly consequences
These Are the Languages Spoken in Canada According to 2021 Census
Localization: a combination of language, marketing and psychology
The high risks of playing the Internationalization Danger game
How Case Studies Can Help You Market Your T&I Services
10 reasons why you should attend a localization conference
5 localization horror stories that will keep you up at night
Jean-François Champollion Deciphers the Rosetta Stone
Building Your Localization Team's Sphere of Influence
A Fair Point: Ensuring Gender Neutrality in Translation
How does a transcreation professional work?
The Benefits of Internal Linguistic Teams
The Unseen Challenges of Translation
103 ways for kids to learn languages
Interpreting Is a Performance Art
Μεταφράζοντας αυτοσχέδια: υπάρχει λόγος σοβαρός;
Business, Tech and other interesting posts
7 Ways to Improve and Maintain Your LinkedIn Profile as a Freelance Editor
How to Make the Most of Sales Networking – Tips, Mistakes, and Examples
B2B Prospecting: The 11 Best Methods You Should Be Leveraging
How to Receive Performance Review Feedback Like a Pro
50 Websites to Download Free eBooks
The 100 Must-Read Books of 2022
You may also like