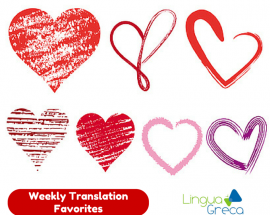 Every week we share on Twitter many interesting blog posts and online articles on translation, interpreting, language, as well as freelancing, blogging, business and social media. If you missed any of the great content we shared last week, here is your chance to catch up.
The content is listed in categories based on the topic, so just scroll down to find your favorite and enjoy reading! You can read the Weekly Favorites from previous weeks here.
If you read any fabulous posts that we missed, let us know in the Comments section or email us at info@linguagreca.com so we can add your links to next week's list.
Translation & Languages
The Guide to Translation and Localization: Formatting Print and Online Documents
Does knowing another language give you a larger mother tongue vocabulary?
Outsource Translation: How to order translations on online freelance platforms?
Food & Beverage and Hospitality Translation Tips, Part 1
Inc. 5,000 List Includes 18 Fast-Growing Language Service Providers
5 Options for Choosing a Country, Region, or Language Selector
Creating Culturally Customized Content for Website Translation
My Translation Philosophy
How to Translate an Idiom?
Translation Standards – FIT 2011 World Congress
Ten ways to raise your profile in the translation industry
Nobody can demand a discount from a freelancer
Making your language resources discoverable and reusable
The Linguist and Social Media: Promotion through Twitter
In-house translation versus freelance translation
How Translation Is Changing the World
Self-Publishing Options for Translators
The Perils of Translation: Babelfish
Amazing rates
Freelancing, Blogging, Writing
My 12 Biggest Freelancing Fears That Didn't Come True
How to Make Your Freelance Resumé Truly Stand Out
The hidden truth behind the phrase "freedom as a freelancer"
A Detailed Guide To Write An SEO Optimized Blog Post in WordPress
52 Types of Blog Posts that Are Proven to Work
Versatile Blogger Award
Social media & Business
10 Useful Strategies for Building Better Business Relationship with Your Clients
8 Ways to Sell Against a Lower Price
The Ultimate Cheat Sheet for Mastering LinkedIn
64 Awesome Facebook Marketing Techniques
The Ultimate Google+ Cheat Sheet
7 Creative Ways to Get Customer Testimonials
What does a website cost?
Travel & Other
Using Dropbox Like a Pro: Tips and Tricks
Favor Done, Now Where's MY Good Karma!?
The sign says what?
Top 40 Funniest Construction Mistakes
55 Strange Buildings of the World
The World of 7 Billion: Where & How We Live
Top 10 Most Amazing Streets In The World
All-TIME 100 Best Nonfiction Books
10 Tips: Ultimate Guide To Better Beer…
Absolutely Hilarious Signs, Part 14
World's Weirdest Hotels
You may also like