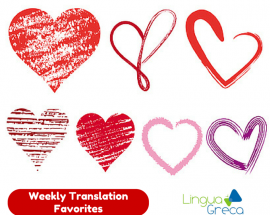 Every week (or few weeks) we share on Twitter many interesting blog posts and online articles about translation (including Greek translation), localization, interpreting, languages, as well as marketing, business and social media.
If you missed any of the great content we shared last week, here is your chance to catch up!
The links are listed in categories and organized by subject matter. Scroll down to find your favorite and enjoy reading! Click here for Translation Favorites from previous weeks.
If you've read a fabulous post and would like to share, let us know in the Comments section or email us at info@linguagreca.com so we can add your links to next week's list.
Translation, Localization, Languages
Adding Commonsense Reasoning to Natural Language Processing Applications
Smart Habits for Making Movement and Exercise a Priority with Eva Stabenow
Parliamentary hearings over Zoom an ongoing headache for interpreters
Continuous Localization for Software and Documentation at Adobe
(More) Advanced Human-Computer Interaction for Translators
[That Word Chat] Words of the Year featuring lexicographers
Translation as an Art: How to Get Your Work in a Museum
[Because Language] Swearin' Time (with Kory Stamper)
[Lexicon Valley] Language, gender, and noun classes
Machine Translation for Websites: Pros and Cons
World Languages: Crash Course Linguistics #14
Writing Systems: Crash Course Linguistics #16
Finding your place in video game localization
Business, Marketing, Social media, Writing
Introducing PALMOS, an interactive map of the Greek technology startup ecosystem
The Ultimate Guide to Finding and Hiring a World-Class Marketing Manager
21 Tactics to Improve Your LinkedIn Presence (Fun Challenge)
[Content Rookie] How to get paid for writing
Communicating & Listening on LinkedIn
The Anatomy of the Perfect Pitch Email
The Great Freelance Rate Debate
Tech and other interesting posts
2020 Was a Year of Climate Extremes. What Can We Expect in 2021?
Why It's Not Too Late to Learn New Skills
You may also like