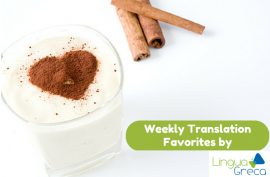 Every week (or few weeks) we share on Twitter many interesting blog posts and online articles about translation (including Greek translation), localization, interpreting, languages, as well as marketing, business and social media.
If you missed any of the great content we shared last week, here is your chance to catch up!
The links are listed in categories and organized by subject matter. Scroll down to find your favorite and enjoy reading! Click here for Translation Favorites from previous weeks.
If you've read a fabulous post and would like to share, let us know in the Comments section or email us at info@linguagreca.com so we can add your links to next week's list.
Translation, Localization, Languages
2 responsibilities that a Globalization / Localization Project Manager has and that many people do not know
[Worldly Marketer Podcast] How ASICS Digital Fitness Apps Serve Millions of Users Around the World
'Hello work' or job centre? language experts spell trouble for Japan's mangled English
What should and what shouldn't we change when revising a colleague's translation?
Smart Habits for Marketing in Unexpected Ways — Smart Habits for Translators
LocLife™ Session 5 — Onward: Inspiring Perspectives from Loc Leaders
Familiarization phase in Localization strategies, a luxury, or a necessity?
Agile and Scrum: What do these terms really mean?
Editors Canada presents: What is Plain Language?
21+ Translation Conferences to Check Out in 2021
Separated by a Common Language: off of, redux
What on Earth is CPD for Freelance Translators?
The Business Value of Continuous Localization
Psycholinguistics: Crash Course Linguistics #11
Antonio Banderas Teaches You Spanish Slang
Fireside Chat with Chiara Fornasero
Around the Web – December 2020
Greek translation and language
Δευτεροχριστουγεννιάτικα μεζεδάκια
Business, Marketing, Social media, Writing
Five Questions To Ask When Deciding Where To Expand Globally
3 Reasons Your Website Needs a Contact Form and How to Get It Right
8 Tips for Creative Writers on Facebook
Tech and other interesting posts
Control, Chance, and How the Psychology of Poker Illuminates the Art of Thriving Through Uncertainty
Emily Levesque: A stellar history of modern astronomy | TED Talk
As Apple leaves flags behind, Amazon begins waving them
The most colorful gemstones on Earth – Jeff Dekofsky
How I Built Resilience: Morra Aarons-Mele of Women Online
The secret to giving a great compliment
You may also like