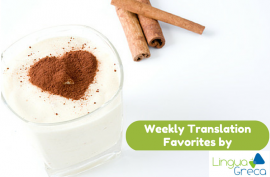 Every week we share on Twitter many interesting blog posts and online articles on translation, interpreting, language, as well as freelancing, blogging, business and social media. If you missed any of the great content we shared last week, here is your chance to catch up.
The content is listed in categories based on the topic, so just scroll down to find your favorite and enjoy reading! You can read the Weekly Favorites from previous weeks here.
If you read any fabulous posts that we missed, let us know in the Comments section or email us at info@linguagreca.com so we can add your links to next week's list.
Translation, Interpreting & Languages
My freelancer dumped me! Some best practices for keeping freelancers committed
Was 2012 the year of pharmacovigilance? Wait, there's more in store in 2013!
Translation/Interpretation online groups: A superlative failure in judgment?
Clear-cut rules for hyphens (translators' least-favorite form of punctuation)
This room is a mess! (aka: how to manage your new home-based office)
Multilingual lexical databases, lexical gaps and SIMuLLDA (PDF)
The price of translation – why is it like buying a second-hand car?
Google's Kurzweil on teaching human language to computers
Think out of the box (or the CAT?) PART TWO and final!


Found in Translation Book Review: Nataly Kelly Responds
Grammar: Singular "they": everyone has their own opinion
Denglisch Dictionary – English Words Used in German
Proofreaders: Who Are They and What Do They Do?
A "10% off" tag on knowledge and accountability?
Translation Conferences January-December 2013
Literary Translators and Self-Publishing (Part 1)
Literary Translators and Self-Publishing (Part Two)
People who rock the industry: Corinne McKay
Top 10 foreign language faux pas: in pictures
Success Strategies for Localization Managers
2013 business resolutions…for translators!
Lesson 50: 2013 – The Year of Translators
Good Practices For Language Learning
The Importance of Messy Interpreting
Interpreting Blunder of the Month
Battling the lonely translator blues
Περιήγηση στις λέξεις του 2012
German Loan Words in English
A To-Do List for Translators
Who cares about English?
Adventures in co-working
The Index Translationum
Online training by eCPD
Translating Literature…
Untranslatable words
Lexical Gaps (PDF)
On CAT tools
Freelancing, Blogging, Writing, Social media
Embarrassing Grammatical Mistakes that Spell Doom for Your Freelance Writing Business
30 Ways to Build the "Know, Like, and Trust" Factor that Grows an Audience
9 Clues That Your New Freelancing Gig May Actually Be a Scam
The Most Frequently Asked Questions (FAQ) about WordPress
5 Ways Freelance Writers Can Earn a Flood of Repeat Business
The Ins and Outs of Selling Ad Space on Your Blog
Most Popular WordPress Plugins [Infographic]
How to Be a Spammer in 20 Simple Steps
Writers, How Are Your Rates Looking?
13 Freelancing Predictions for 2013
Taxes for Freelancers: A Primer
Miscellaneous
145 Weird, Fun and Interesting Facts About Canada
Why You Need a Seriously Fast Website
You may also like