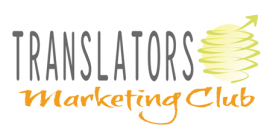 I was recently interviewed by Marcela Reyes for the Translators Marketing Club.
As described in the Club's blog:
Translators Marketing Club Expert Interviews are in-depth interviews with world experts in key areas of sales, marketing and branding for translators. They're available as podcast interviews on your PC or iPod/MP3 player and as transcripts exclusively for paid members of the Club. The transcripts and downloadable files are available to Club members.
This interview is available to listen as a podcast, but Marcela was kind enough to allow me to publish the interview transcript in our blog, so if you prefer reading instead of listening, you can download the full interview as a PDF file.
Feedback is always welcome of course 🙂
You may also like