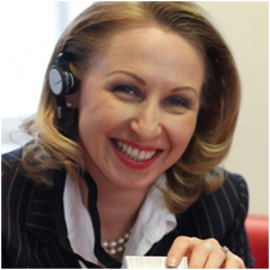 In this guest post, we interview Jurga Zilinskiene the founder and managing director of Today Translations, a translation company in central London. Jurga gives us an insight into the demands of running a translation company and how she set up her business.
You are currently the managing director of Today Translations – a translation company in the City of London. Why did you choose this particular business? Would you call yourself a visionary?
I wouldn't necessarily call myself a visionary but I definitely saw an opportunity in the market to provide professional translation services on a global platform.
Of course, I also recognised the business potential for the industry. Perhaps, on a subconscious level, being Lithuanian might have had a certain influence. As a nation, I think Lithuanians are very driven. But consciously, you could say it was the foresight that in the new light of globalisation and multiculturalism, languages will be extremely important. I preferred this business over others as it was a transparent one, based on a real need.
I said that I saw this as an opportunity, not an investment, as I believe a real interest in people's needs is the secret to any successful business.
In some respects, I think the work I have done has been visionary. When setting up Today Translations I was looking for a computer program that could keep track of our linguists and projects. After a lengthy search, however, I could not find anything. I developed and coded a database system by hand – we still use it at Today Translations to this day.
My advice for anyone looking to set up a translation company would not be to think about how you can revolutionise the industry, but how you can revolutionise your processes to further the industry.
What do you consider to be the most challenging aspect of running a translation company?
I would say that no matter the type of business, the larger it is, the more challenging it becomes. There are a large number of people involved and keeping track of everything and everyone is indeed one of the most difficult aspects. We have over 2,000 linguists that work with us and trying to manage each and every one can be very demanding.
But most importantly, without their hard work and dedication we wouldn't be able to provide the level of service that we do.
How do you select the translators and interpreters you work with?
All our translators are carefully selected after rigorous evaluation. Accuracy is paramount and a minor oversight might have serious consequences for the quality of the translation and service.
For us, an accurate translation must take into consideration the industry and audience. That's why we match translators and interpreters not just on linguistic knowledge but also industry experience. That way, when we provide translation services in the energy, oil and gas industry we can be sure that the result is accurate and also speaks directly to the audience in the type of language they are familiar with.
What languages are most in demand to be translated?
Currently Mandarin Chinese and Arabic are seeing large increases in demand. However, despite lots of media stories highlighting the growing economies in China and the Middle East, many European languages are still hugely popular – especially German and French.
The other growth language we are noticing is Brazilian Portuguese, partly because of the growth in the energy industry there. In 2016 with the Olympic Games in Rio, we predict that the need for Portuguese translation will grow even more.
Where do you think the translation industry is headed?
Unlike other industries, which I think have shrunk slightly in the economic difficulties of the past couple of years, the translation industry looks very strong. Some have said that it is a recession-proof industry!
Some analysts suggest that the translation industry could grow by almost 50% in the next few years, far higher than other industries.
This is down to two reasons. First, the global economy is becoming far more inclusive and nations are looking for new import/export opportunities as traditional markets experience difficulties.
Just this month, Australia announced its focus on placing Asian languages at the heart of Australian foreign language teaching, with the goal of having all schools grouped with sister schools in Asia.
Second, new technology, specifically high-speed Internet access and smart phones, have placed a greater importance on information shared globally. Whereas companies may have only required a website in their native language before, they are now faced with the demanding challenge of being able to provide information for customers all around the world.
Is there anything you'd like to recommend businesses or people in general?
To businesses I would say to pay more attention to the importance of languages and put themselves in the place of their target audience.
For people, I would suggest to pay more attention to the importance of foreign languages. Traditionally English has been used as the lingua franca of international business but if you are a monolingual English speaker, you are actually in the minority! The world has already become highly multilingual and an over-reliance on a single language may prove to be a disadvantage in the long run.
It was great to interview Ms Zilinskiene. For anyone interested in setting up their own translation agency, hopefully there are many helpful tips to take away. It is extremely important to keep in mind that mastering foreign languages is a useful skill given the increased number of business with a multinational and international profile.
Author bio:
A former Linguistics graduate and a current web-marketing coordinator, Colin Cheng is very passionate about language, words, their meanings and equivalents in other languages. You can find Colin on Twitter.
You may also like