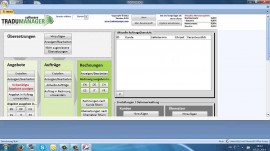 We recently decided to move away from spreadsheets and Dropbox regarding our translation management system. Once you start shopping around for a translation management system, the first thing you realize is that the options are unlimited. There are several project management systems in the market that accommodate virtually all the management needs of both freelancers and agencies. It will definitely take us some time to test the most promising of those systems/services, so in the meantime we thought it would be a good idea to share with you our thoughts about the ones we try out.
The quest starts with Tradumanager, a project management software for translation service providers. A colleague recommended it to us recently, so I played around with it a bit, these are the facts and my thoughts.
Overview
Tradumanager, which was developed by a German company, comes in two versions: one for translators and one for translation agencies. It is a stand-alone software that users can download and install to their Windows computers. Both versions also offer a demo version so users can download, install and use the software for free for 30 days to determine if it covers their needs.
The basic version for translators is free. The Pro version for translators costs €24.99. The difference between the two is that the Pro version offers an overview of sales, earnings and taxes in a table format, an outsourcing feature, and support via email. The version for translation agencies offers an even wider list of features, for a one-off payment of €99, which is much lower compared to the prices of other project management tools/services I came across.
Features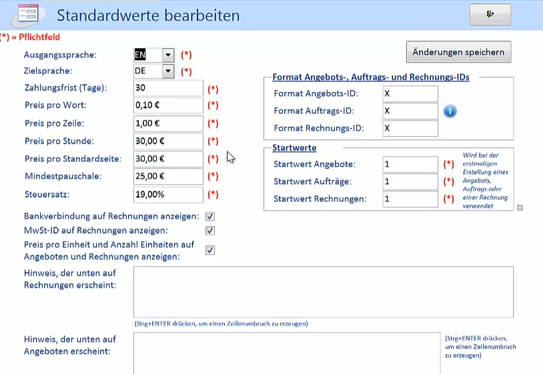 The features depend on the software version (Basic or Pro version for translators, and Translation agencies version). You can create fully customizable quotes and invoices (.pdf format) and have an overview of all the invoices that are due, which is a big plus given that every translator spends quite some time each month for administrative work, such as invoice creation. Having all your data in one place saves you lots of time down the road!
The interface is user-friendly and the creation of invoices is pretty straightforward. You can calculate the repetitions and fuzzy matches with different discounts for each project; view an overview of sales and earnings in a table format in order to monitor the growth rate of your business. Last but not least, I liked that the user can ask for specific modifications in order to customize their version of the software.
Compatibility
Tradumanager is only available for Windows. For a hardcore Mac user like me, this is a big issue. It wouldn't matter if the tool was web-based, but unfortunately it's a Windows-based software.

Tradumanager is a good starting point for a translator's or a small translation agency's basic needs. It helps move away from the many different Excel sheets most translators use daily to a more organized all-in-one tool. It saves time with invoicing & data management. For more information, check out the Tradumanager website or watch the tutorial videos they have posted on YouTube (in German only).
Have you used Tradumanager or other project management and accounting tools for translators? Tell us how your thoughts below.
You may also like