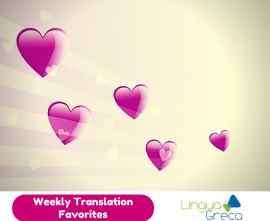 Every week we share on Twitter many interesting blog posts and online articles about translation (including Greek translation), localization, interpreting, languages, as well as blogging, business and social media.
If you missed any of the great content we shared last week, here is your chance to catch up!
The links are listed in categories and organized by subject matter. Scroll down to find your favorite and enjoy reading! Click here for Weekly Translation Favorites from previous weeks.
If you've read a fabulous post and would like to share, let us know in the Comments section or email us at info@linguagreca.com so we can add your links to next week's list.
Translation, Interpreting & Languages
T-Index – Which markets offer the greatest potential for online sales?
Useful for translators: 9 Useful Strategies for Getting Clients to Pay On Time
A Computer-Aided Translation of the Cretan Hieroglyph Script
Translation of legal documents and complicated legal language
11 Fun Facts About the International Phonetic Alphabet
How to translate your e-commerce site to boost sales
A Computer Tried (and Failed) to Write This Article
Is there anything that is completely untranslatable?
The subtle art of translating foreign fiction
The Magic of "Untranslatable" Words
Greek translation & language
PDF: Αντιμετωπίστε τα με επιτυχία!
Blogging, Writing, Productivity
The Best Music For Every Task You'll Tackle at Work Today, According to Science
PerfectIt 3 – must-have software for the editorial freelancing pro
10 Essential Imaging Tools For Successful Bloggers
Why Writing for Free Still Sucks
Social media
5 Types Of LinkedIn Posts You Should Avoid
5 Ways to Get More LinkedIn Leads
Marketing, Business, Web Design
The 10 Best Free Keyword Research Tools for Startups
13 Actionable SEO Tips You Can Use Today
Marketing plan template for entrepreneurs
Developing Event Participant Plan
Miscellaneous, Tech
Will your job go extinct? Find out how precarious your profession is
26 Things You Need To Do This Summer In Toronto
How to interview someone like a journalist
In the Depths of the Digital Age
Time perception – Wikipedia
You may also like