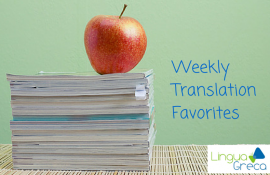 Every week we share on Twitter many interesting blog posts and online articles about translation (including Greek translation), localization, interpreting, languages, as well as blogging, business and social media.
If you missed any of the great content we shared last week, here is your chance to catch up!
The links are listed in categories and organized by subject matter. Scroll down to find your favorite and enjoy reading! Click here for Weekly Translation Favorites from previous weeks.
If you've read a fabulous post and would like to share, let us know in the Comments section or email us at info@linguagreca.com so we can add your links to next week's list.
Translation, Interpreting & Languages
Star Wars Translations, Emoji, Talking Dolphins and More: 9 Language and Translation Stories
Who do you think you're apostrophising? The dark side of grammar pedantry
Free e-book (PDF): Applied Sociolinguistics (1984), ed. Peter Trudgill
Podcast: Why the dictionary shouldn't have narrative interest
Friend or Faux? The Linguistic Trickery of False Friends
The ETYFish Project | Fish Name Etymology Database
Language use and names in classical Rome (podcast)
A Guide to Translation Approach by Content Type
[Podcast] The Why Factor, Why Words Matter
Programming languages in highest demand
Creative Localization at Scale, at Netflix
How etymology can help your spelling
[Podcast] The Euphemism Treadmill
Around the Web – April 2017
The strange grammar of innit
TL;DR: Abbreviations FTW
Greek translation & language
Μεζεδάκια επί μακρόν
Blogging, Writing, Productivity, Social media
The 'Agency Piggyback' Strategy for New Freelance Writers
Why You Need Twitter Lists and How To Organize Them
The Best Times to Post on Social Media [Ultimate Guide]
10 B2B Lead Generation Tactics For Social Media
Marketing, Business, Web Design
The Marketing Mentor Podcast: How to Reach Out to Your Ideal Clients
Podcast: How to Give and Get Exceptional Testimonials, Part One
Traveling for Business? Let's Get Clear On Your Tax Perks
7 Reasons Why You Shouldn't Compete on Price
The "Where Do I Find Clients?" Primer
Podcast: Seth Godin and How to Create Change
6 Questions to Ask for Powerful Testimonials
Miscellaneous, Tech
Podcast: How I Built This – Real Estate Mogul: Barbara Corcoran
Why Hyperlinks Are Blue (and Other Quirky Web Origin Stories)
Canada is North America's up-and-coming startup center
7 Email Hacks to Use When You Need to Get a Response
50 Books Recommended by This Year's TED Speakers
The 10 most beautiful airport landings in the world
A bird's eye view of Toronto growth since 1879
The psychological importance of wasting time
You may also like