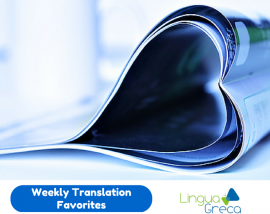 Every week we share on Twitter many interesting blog posts and online articles about translation (including Greek translation), localization, interpreting, languages, as well as blogging, business and social media.
If you missed any of the great content we shared last week, here is your chance to catch up!
The links are listed in categories and organized by subject matter. Scroll down to find your favorite and enjoy reading! Click here for Translation Favorites from previous weeks.
If you've read a fabulous post and would like to share, let us know in the Comments section or email us at info@linguagreca.com so we can add your links to next week's list.
Translation, Interpreting & Languages
36 Million Words: Why Autodesk's Localization Team 'Fully' Outsources Production
Inside the OED: can the world's biggest dictionary survive the internet?
Canada Commissioner 'Keeping a Close Watch' On Linguistic Duality
Arugula—Rehashed: The Mean Streets of Culinary Translation
How many words do you need to speak a language?
Le marché de la traduction en 2022 (rapport TAUS)
What Exactly Is a Technical Freelance Translator?
'Got' and 'gotten' in British and American English
How the letters of the alphabet got their names
Linguistics and Language Podcasts
The new rules of CaPiTaLiZaTiOn
Do you ever wear language?
Greek translation & language
Έγινε φέσι: οι 50 αποχρώσεις της μέθης
Γαλλοκροατικά μεζεδάκια
Προημιτελικά μεζεδάκια
Αφορά το ή αφορά στο;
Blogging, Writing, Productivity
How much does fiction copyediting and proofreading cost?
[Free webinar recording] How to get editing work quickly
Social media
26 Tools and Apps for Social Media Marketers
How to Reveal Your Best LinkedIn Prospects
Tech & Other
7 amazing reasons you should take your baby to music classes
Coldest Known Temperature on Earth Recorded in Antarctica
2017 National Geographic Nature Photographer of the Year
12 Travel Books to Read Before Summer Is Over
The Neuroscience of Pain
You may also like