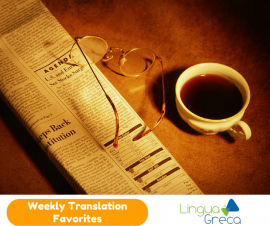 Every week we share on Twitter many interesting blog posts and online articles about translation (including Greek translation), localization, interpreting, languages, as well as blogging, business and social media.
If you missed any of the great content we shared last week, here is your chance to catch up!
The links are listed in categories and organized by subject matter. Scroll down to find your favorite and enjoy reading! Click here for Translation Favorites from previous weeks.
If you've read a fabulous post and would like to share, let us know in the Comments section or email us at info@linguagreca.com so we can add your links to next week's list.
Translation, Interpreting & Languages
Trump's Interpreter Suddenly Finds Herself at the Center of a Political Firestorm
Weekly Word Watch: double negative, Typhon, and the Meghalayan Age
How to Create an Ideal T&I Client Profile to Market Your Services
Diplomatic Interpreting: Misunderstood and little known.
ITI responds on translations of Brexit White Paper
My Business Is Better Because I Have E&O
10 Amazing Sign Language Music Videos
When 2 Negatives Don't Make a Positive
List of language podcasts for word nerds
Sales is Process Not Alchemy
Why Mistranslation Matters
More double negative jokes
It's all about the money!
Greek translation & language
Μεταμουντιαλικά μεζεδάκια
Marketing, Business, Writing, Web Design
5 steps to creating a potential client directory (also referred to as your prospect directory or prospect list)
14 Marketing Productivity Tools You Should Check Out in 2018
13+ Essential (free) Courses for Freelance Writers
Five ways to make your presentation better
Tech & Other
How to Set (+Reach) Your Personal Goals in Life and Work
30 of the most beautiful natural wonders around the world
Welcome to the Meghalayan Age – a new phase in history
15 Podcasts That Will Make You Feel Smarter
You may also like