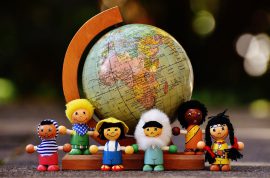 At the 59th annual conference of the American Translators Association, where among brilliant sessions, activities and networking (hugging and lunching with your colleagues definitely counts!), I was invited to participate on the panel Parents by Day, Translators by Night: Can They Really Do It All?
The highlight of the panel for me was listening to co-panelists and attendees talk about their experiences, and hearing their tips for how they manage being parents and translators. During the conference, I peppered my translator friends with questions about how they manage careers and children. I didn't expect to get so much out of hearing about other parents' experiences before becoming a parent – from all sorts of sources, such as books, blogs, social networking groups, and face-to-face interactions.
Tips from those who have been through the trials and tribulations of being a parent and translator? I'm all ears! 🙂
As a result of my very positive, fun and enriching experience on the ATA59 panel, I'd like to start a new series on our blog: Translators on Parenting. It seems I'm not the only one with this relatively newfound interest in all things parenting and I'm looking forward to sharing this new series of posts with you.
If you'd like to share your knowledge and offer much-needed tips to fellow translator parents, here are a few guidelines:
Everyone's invited. Mums, dads, grandparents, aunts, uncles – even siblings. If you've spent time with children and you'd like to share a story or lessons learned, we'd love to hear what you have to say! Also, this series isn't for translators and interpreters exclusively. We can learn a lot from professionals in other fields – parenting and otherwise – and all tips are welcome – from editors, writers, designers, and more.
Please start your post with a short intro (see below) and then choose from the proposed topics and questions (or write about a topic that isn't mentioned, as long as it has to do with kids and your experiences with them; otherwise contact us with your pitch for a guest post).
Background and short bio: full name, country of residence, title/position and work hours (e.g. freelance English-Greek translator since 2012), working environment (home, in-house at an LSP, travelling all the time for assignments), parenting situation (e.g. dad to two children ages 2 and 5.5 years old) and other similar information you think is relevant. Don't forget to add links (your site and/or blog, and social media accounts).
Then, have a look at the following questions and choose the topic you'd like to write about. There are no restrictions in terms of content. If you'd like to talk about a specific topic or share a parenting story on a topic that isn't mentioned below, feel free. If you prefer your post to be styled as an interview, select your preferred questions and include them in your post, with your answers below each one.
If you feel like writing about multiple topics, go ahead. If your post is long (more than 1,000-1,200 words), we can discuss splitting it into two posts. If you'd rather share a short story, we can combine them with other short stories on parenting.
Experiences before and during pregnancy – for mum or dad.

How did preparing for baby affect your working schedule? How did you deal with pregnancy hormones and other symptoms? (E.g. extra naps, running a bath for your pregnant partner, prenatal classes, being extra attentive)
How did you prepare (books, hospital tour, classes)? Did you stress about the fact that you were having a baby (one more mouth to feed, college fund, how will I find time to work, I need more or better clients, no sleep/vacation/fun/travel for me for the next 18 years)?
Parental leave. Did you or your partner take time off before or after the birth of your children? What was your daily schedule after the baby arrived? What about after they went to daycare or school?
Birth experience. What happened as soon as you realised that you or your partner was giving birth? Were you on parental leave already? Did you simply pick up the hospital bag and head out the door? Or, did you scramble to prepare the out-of-office reply and call your (biggest/main/all) clients to let them know? Did you work during your hospital stay or take work calls?
Support network and child care. I'm sure you've heard (and felt in your core) the phrase 'It takes a village'.

What is/was your support network (family and friends, other mummies from baby classes, baby nurse, doula, playdates)?
What about when your kids went to daycare or school? What are the most common childcare solutions in your country? What has worked for you?
How about the cultural aspects of childcare? In Greece, it's quite common for grandparents to raise their grandchildren while the new parents continue working. Does your family live close to you? Have they been able to provide support? What about your partner? Do your different schedules allow for 'shifts' in childcare?
An attendee from the panel asked: Any tips on how the working 9-5 parent can help the working-from-home-and-taking-care-of-the-baby parent?
Working. What happened when you returned home from the hospital with your bundle of joy?

Was it easy to concentrate and work between changing nappies and feedings every couple of hours?
Do you (try to) follow a set working schedule? Most translator parents I've asked say they do their best (i.e. concentrating, no distractions) and work early mornings and late nights.
Pregnancy books say 'when baby sleeps, mum should sleep as well'. When are the best times for you to work?
What about distractions (when the baby is only a few weeks old and you just have to check every five minutes if s/he is breathing, when the child is on the other side of your office door asking for your attention, when a grandparent takes care of the baby on a different floor of your house, if a client calls during lunch or when the baby is teething and fussy)? Sleep deprivation (especially during the first year).
Non-billable work – invoicing, accounting, blogging, social media, marketing, volunteering: Did you continue these activities in the same frequency after baby's arrival (wow, if you did so and please share how you managed it) or did they fall through the cracks and you're wondering when you'll be able to pick it all back up again?
How do you deal with parental guilt (whatever you're doing is not enough, more time, more activities, new health trends you're not following) and anxiety about the child (health, development, future, your own health -what if something happens to you-, money).
Do you have any advice on what to do with the guilt of not being able to give it 100% as a parent and the doubts about being successful in your field due to limited availability and time constraints?
Work-life balance. Do you believe it can be achieved? What does it mean to you? Is there a way to spend alone time, work on hobbies or have time for personal development?
Activities for babies/toddlers/kids. In-house (e.g. babies: crafts, physical development exercises, singing/dancing, chasing pets, balls/cubes/anything wooden and plastic) and external (e.g. for babies: swimming, splash pads, library reading class, rhymes/songs class, music development class, stroller fit, toys in the park).
Recommended resources. Can you recommend useful or funny books, blog posts, websites or other resources that you would recommend to our readers? I started a page under our Toolbox with some of the books I've read this year and I keep adding resources as I remember them or come across new ones.
Now you have all the inspiration you need! When you finish your post, please email it to us along with your photo.
Have we forgotten to cover something? Let us know in the comments below.
We'll publish our first post for this new series (on parental leave, deadlines, and baby brain) soon, and we look forward to reading all about your experiences and diving in to your tips!
Image source: Pixabay
You may also like