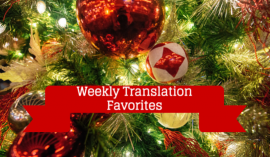 Every week we share on Twitter many interesting blog posts and online articles about translation (including Greek translation), localization, interpreting, languages, as well as blogging, business and social media.
If you missed any of the great content we shared last week, here is your chance to catch up!
The links are listed in categories and organized by subject matter. Scroll down to find your favorite and enjoy reading! Click here for Translation Favorites from previous weeks.
If you've read a fabulous post and would like to share, let us know in the Comments section or email us at info@linguagreca.com so we can add your links to next week's list.
Translation, Interpreting & Languages
Confusion of Donald Trump's Italian interpreter goes viral – why some jobs are meant to be invisible
Those Amazing Special Bilinguals | Exceptional people in the world of bilingualism
Regular Expressions for Translators: Four Applications in SDL Trados Studio
Blissfully Mistranslated Slogans, Posts and Signs from Around the World
Valerij Tomarenko and his book 'How to make your translations visible'
LocWorld41 in Silicon Valley – Nimdzi Conference Report
[Podcast] The Importance of Geoculture in Localization
Regular Expressions for Translators: Character Classes
Why minimum viable products are no longer enough
Interpreting Across the Globe: No One Size Fits All
Words of the decade 2010–2019: Fritinancy edition
ATA Board Delays Decoupling Certification Exam
Key Takeaways from SlatorCon Amsterdam 2019
5 Tips to Start your Digital Localization Strategy
A Multidisciplinary Team of Linguistic Athletes
METM19 in Split, Part 2: Down to brass tacks
Greatest Women in Translation: Lucinda Byatt
The 10 Best Gifts That Translators Will Love
Regular Expressions for Translators: Anchors
10 English Phrases That Don't Translate
Around the web – November 2019
Need your translation ASAP?
Greek translation & language
Official translations in Greece: everything you wanted to know (but were afraid to ask)
404 πιατέλες μεζεδάκια
Blogging, Writing, Productivity
23 must-read blogs and sites for writers
171 Free Resources for Freelancers
Marketing, Business, Web Design
What Are Follow Up Emails and How to Use Them Effectively
Let's kill the hourly rate: We are leaving money on the table
How to Nail Your Market Positioning When Going Global
The 2019 Web Almanac
Tech & Other
Basilica of Our Lady Immaculate – Guelph, Ontario
What We Lose When We Lose Indigenous Knowledge
Pantone Announces its Color of 2020
The books that defined the 2010s
NPR's Favorite Books Of 2019
You may also like