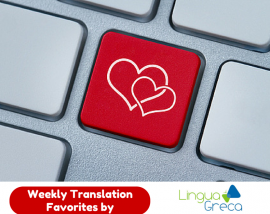 Every week (or few weeks) we share on Twitter many interesting blog posts and online articles about translation (including Greek translation), localization, interpreting, languages, as well as marketing, business and social media.
If you missed any of the great content we shared last week, here is your chance to catch up!
The links are listed in categories and organized by subject matter. Scroll down to find your favorite and enjoy reading! Click here for Translation Favorites from previous weeks.
If you've read a fabulous post and would like to share, let us know in the Comments section or email us at info@linguagreca.com so we can add your links to next week's list.
Translation, Localization, Languages
Free ebook: Making Sense of "Bad English": An Introduction to Language Attitudes and Ideologies
Automation and Artificial Intelligence – A report on the automation track of LocWorldWide42
Coronavirus has led to an explosion of new words and phrases – and that helps us cope
California Translators, Interpreters Win Exemption From Gig Worker Bill AB5
Why are there differing preferences for suffixes and prefixes across languages?
SDL Trados Studio 2021: Minor improvements and a game changer
Future-proofing your Business – Webinar with Renato Beninatto
How Did England Get Its Bizarro Street Names? | Literary Hub
Against the "Good" Translation: The Power of Disobedience
Curiouser and Curiouser: More Wordplay in Puzzling Times
The Premium Translation Market: Hiding In Plain Sight
Video-Fix: The 10 funniest language-learning scenes
Is English spelling an insult to human intelligence?
AI Weekly: Can language models learn morality?
[Webinar] Let's Talk about Machine Translation
The Continuing Evolution of Enterprise MT
Why We Need to Talk about Multi-Market
Build a Strategy for Localization Testing
[Radiolab podcast] Translation
Greek translation and language
Τα έκανε θάλασσα: οι 50 αποχρώσεις της αποτυχίας
Σεπτεμβριανά μεζεδάκια και φέτος
Business, Marketing, Social media, Writing
[GoodGirlsGetRich podcast] What Comes Up When You Google Yourself?
The Ultimate Freelance Marketing Survival Guide
7+ Tips for Handling a Q&A Session in 2020
Who invented writing?
Tech and other interesting posts
The history of the Danforth Music Hall in Toronto
You may also like