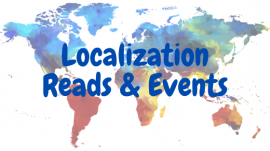 Our Translation Favorites series has a new name and updated look! Apart from great reads on translation, localization and languages, we'll be featuring unmissable (mostly #L10n) events that you can join for free.
The posts are listed in categories and organized by subject matter. Scroll down to find your favorite and enjoy reading! Click here to read Translation Favorites from previous weeks and years.
If you've read a fabulous post or you are hosting/attending an awesome free event, please let us know in the Comments or email us at info@linguagreca.com so we can add your link or event in next week's list.
Upcoming free online events
Every Friday, 1-3 pm EST, January 29-April 23, 2021: Boston University Lecture Series in Literary Translation
February – May 2021: World Readers Collective Book Club

March 16, 2021

TCLCT book club: translated literature

March 16, 2021

This Little Art: Translators' Stammtisch

March 17, 2021

WLEC: Demystifying AI and NMT for Language Professionals, by Women in Localization Eastern Canada

March 17, 2021

In Search of the Last Greek Infinitive by Dr Ioanna Sitaridou, by The Hellenic Centre & The CCGS

March 17, 2021

DIVERCITIES: Language and Innovation

March 18, 2021

Northern Powerhouse: Behind the Scenes of Indie Publishing

March 24, 2021

Greek Poetry in the Roman Empire by Prof Tim Whitmarsh, by The Hellenic Centre & The CCGS

March 31, 2021

WLSP: What Global Enterprises Need to Know About AI, by Women In Localization

April 9, 2021

Rising Athenas, Male Allies, and the Power of Gender Partnership, by Utah Women & Leadership Project

May 21, 2021

Emotions and the Translation Professions: Online Symposium, by The Open University
Clubhouse shows (rooms) on translation and localization
Weekly on Monday at 12:00 ET

LocUnleashed – by Liz Dunn Marsi & Tucker Johnson

Weekly on Thursday at 13:00 ET

Platform economics, rapid scaling, and localization – by Jan Hinrichs & Bernhard Hecker

Weekly on Friday at 12:00 ET

The Wordly Marketer Chat – by Kathrin Bussmann

March 29 at 14:30 ET

Localization Explained – by Marina Gracen-Farrell
Translation, Localization, Languages
A Pivot in Localization Strategy is Behind McDonald's Chinese Burger and KFC's Hot-dry Noodles
Bringing The World Together With Localization – An Interview With Soeren Eberhardt
Project Underwear: Analyzing Global Consumer Expectations of Localized Content
The Battle Over Globalization | Season Series: Panel 1 | Winter 2021
'Shocked by the uproar': Amanda Gorman's white translator quits
The Differences Between Deep Learning vs Machine Learning
Localization Metrics and Return on Investment
Designing and using a bilingual writer corpus
Translation: Doing It For The Kids
IPA Basics: Place of Articulation
Greek translation and language
Οι γλωσσολόγοι που χτυπάνε καμπανάκι και άλλες λερναιότητες
Business, Marketing, Social media, Writing
What is a UX Writer? Examples from Uber, Apple and Grammarly
Clubhouse App for Business: What Marketers Need to Know
How do copywriters decide on their fees and pricing models?
How to Start a Clubhouse Room and Moderate Like a Pro
LinkedIn audio pronunciation
Tech and other interesting posts
Google opens two more accelerators to Canadian startups as remote becomes the new reality
Successful Greeks Share Knowledge in YouTube Series "Learn From the Greeks"
The Future of You. New year resolution: Recharge, Reconnect, and…Run.
The most striking images of 2020
You may also like