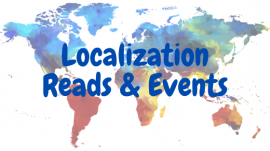 Our Translation Favorites series has a new name and updated look! Apart from great reads on translation, localization and languages, we'll be featuring unmissable (mostly related to languages, translation & localization) events that you can join for free. Click here to read Translation Favorites from previous weeks and years, and here for the Localization Reads & Events archive.
If you've read a fabulous post or you are hosting/attending an awesome free event, please email us at info@linguagreca.com so we can add your link or event in next week's list.
Upcoming free online events
Translation, Localization, Languages
Creating Global Ready Content for Localization. My 26 tips to increase content quality and boost international growth
Think beyond .com: From country codes to internationalized domain names
Beyond localization: How to adapt your games for a global audience
All just a load of….?: A journey into the interpreter's mind.
[Webinar recording] The Future of Localization Ecosystems
Jhumpa Lahiri: 'I've always existed in a kind of linguistic exile'
What are the top services in the language services industry?
Hyperglot shows you which fonts support which language(s)
Less of Culture Fit and more of Culture Sum
Covid-19 and the Language Services Industry
Suzanne Zaccour – Le masculin ne l'emporte plus !
Business, Tech and other interesting posts
7 Marketing and Productivity Tools for Gmail and Google Workspace (G Suite) Users
[How I Built This with Guy Raz] Clubhouse: Paul Davison and Rohan Seth
Reduce Bounce Rate by Fixing These 7 Web Design Mistakes
The 10 Crucial Website Mistakes That Kill Your SEO
Did You Get My Slack/Email/Text?
You may also like