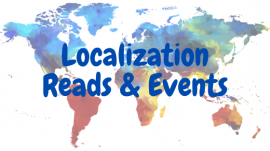 Our Translation Favorites series has a new name and updated look! Apart from great reads on translation, localization and languages, we'll be featuring unmissable (mostly related to languages, translation & localization) events that you can join for free. Click here to read Translation Favorites from previous weeks and years, and here for the Localization Reads & Events archive.
If you've read a fabulous post or you are hosting/attending an awesome free event, please email us at info@linguagreca.com so we can add your link or event in next week's list.
Upcoming free online events
Translation, Localization, Languages
GDC 2021: Inclusivity in Game Localization is this year's hot topic
What's the best way to display dates to international users?
A Day in the Life of a Language Lover, with Jost Zetzsche
Emojis aren't debasing language – they're enriching it
Why translators should be named on book covers
Translation Tribulations: Fail early and often
7 Ways LSPs Can Use Industry Standards
Αρχαία και νέα ελληνικά: Δέκα παρατηρήσεις και μια πρόταση
Business, Tech and other interesting posts
How to Take Smart Notes Summary
You may also like