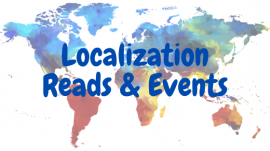 Our Translation Favorites series has a new name and updated look! Apart from great reads on translation, localization and languages, we'll be featuring unmissable (mostly related to languages, translation & localization) events that you can join for free. Click here to read Translation Favorites from previous weeks and years, and here for the Localization Reads & Events archive.
If you've read a fabulous post or you are hosting/attending an awesome free event, please email us at info@linguagreca.com so we can add your link or event in next week's list.
Upcoming free online events
Translation, Localization, Languages
What makes a digital product world ready? My list of ideas to influence developers to think about localization from day one
LocWorld, Global Business, and Language, feat. Ulrich Henes of @LocWorld – VistaTalks Episode 80
The New MT: Data-Enhanced Machine Translation (feat. Jaap van der Meer and Amir Kamran)
Crowdsourcing localization: How to Enable User-driven Translation and Review
How minority languages found an unlikely ally in translation companies
The Machine Translation Literacy Project with Lynne Bowker
The Language Game How Interpreters Connect the World
7 things you should know about marketing localization
Achieving Six Sigma Quality in Translations is Possible
Questions for LocPros: Do you have an accent?
Why some words are just funny – Subtitle
Business, Tech and other interesting posts
Building a Career That Aligns With Your Passions – Ask the Expert
Why Market Intensification Is the New "Market Entry"
Resources – Reviews of laws worldwide 2021
You may also like