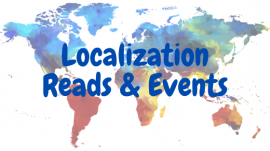 Our Translation Favorites series has a new name and updated look! Apart from great reads on translation, localization and languages, we'll be featuring unmissable (mostly related to languages, translation & localization) events that you can join for free. Click here to read Translation Favorites from previous weeks and years, and here for the Localization Reads & Events archive.
If you've read a fabulous post or you are hosting/attending an awesome free event, please email us at info@linguagreca.com so we can add your link or event in next week's list.
Upcoming free online events
Translation, Localization, Languages
Inside the dying art of subtitling. The wildly popular series Squid Game drew criticism for its English subtitles. Just how did those happen?
New Manitoba programs aim to increase number of Indigenous language speakers, translators
What happens in our brain when we switch from one language to another?
From Italy to Silicon Valley: A Career Journey in Localization
35 Years, 200 Issues – A Narrative of MultiLingual's History
Best 35 Translation & Interpretation Podcasts in 2022
5 favorite localization gaffes to know, and avoid
The Unending Quest for Human Parity MT
RFPs in the Localization Industry
Translation Conferences in 2022
Business, Tech and other interesting posts
18 smart hacks to get you through an online course
Elsa, Olaf, and how to double your sales
You may also like