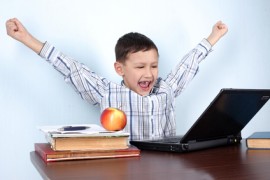 On the Mac side of life
After solving my biggest PC to Mac migration hurdle (Trados), I started spending more time on the Mac side of my MacBook in order to familiarize myself with the new environment. My initial impression, as a first-time user of Mac OS, was mixed. I liked the fact that it takes only 30 seconds or so to boot (and about 5 seconds to shut down). I also liked the layout and the interface. I was glad to see that my iPhone was a good starting point in order to get a basic idea of how the OS worked.
However, I had some orientation problems at first. Where was the Control Panel? How do I uninstall an application? How do I check for software updates? Why does it look so different from Windows?!
Back to school
Before I got too confused with the differences, I decided to make myself some coffee. I always think and work better with some java in my system. While I was enjoying my coffee, it occurred to me that I still had Microsoft mentality, i.e. expecting that everything would look like Windows.
If I was to make a successful migration from Microsoft to Apple, I had to return to the first time I used a PC – some 20 years ago! There's no point trying to use my Windows experience in order to find my way around on Mac. It would be better to say "Right, brand new laptop, brand new OS, let's see what is going on with that". That's how I first started using Windows back in the day. How difficult would it be to do it all over again for the Mac? Well, turns out it's not that difficult really. Sure, you make the odd mistake at first because your mind works a bit faster than your fingers, but if you are willing to feel that you are in the first day of school, everything will turn out smoothly.
What struck me at first was the simplicity of the programs. You can set up your iCal and Mail applications quite easily (bye-bye Outlook). You can also import your photos to iPhoto, as well as all your documents and music from your PC without much trouble. This experience is quite useful because you learn it in the process. Before you know it, your migration to Apple is complete. At the same time, you learn the shortcuts, you familiarize yourself with the OS, you get the best out of your Mac by trying things. After all, practice makes perfect. Good thing work was a bit slow during August and I had the time to experiment with my new Mac.
Another twist
Before I knew it, work started picking up, so I had to boot on Windows and start working on Trados. Almost immediately, I got the usual update message… I wasn't willing to go back, yet in a way I was forced to, because of work. I decided to swallow my pride and install all the updates. So there I was, spending almost a full working day downloading updates, the service pack and -you guessed it- more updates. And then some updates, the service pack and -you are right again- more updates for Office 2010.
To top it up, I also installed an antivirus program. Staring the screen during the update process, I felt puzzled: you see, I was under the impression that updates, service packs and the lot were important for the wellbeing of my PC. But a week or so working on the Mac made me forget about all those annoying notifications that came to haunt me once I rebooted on Windows.
That was the last time I complained about Windows. Although there is no easy way around the problem of Trados, I started working on Mac exclusively for anything that does not involve Trados. This meant that I bought iWork instead of the Office for Mac. I am so glad I did. I just opened Pages and here I am, writing my blog post on Mac!
A new dawn
The whole process of migrating from Microsoft to Apple is definitely a bumpy road, but you can walk down that road easier than you think. Mac will serve you well, it's fast and efficient and will certainly prove a worthy buy in the long-term. Although its price can put you off from buying it – it sure kept me back a couple of years!
The bad thing is that I am a translator and my choices are somehow limited with regard to TM software. However, I strongly believe that the solution is just around the corner (there are CAT tools like OmegaT, Wordfast, Swordfish etc. that run on the Mac – however, the big translation software companies, like SDL, are apparently unwilling to take a bite of the apple). That way I can also delete my Bootcamp partition and say bye-bye to Windows for good this time. The other way would be to change careers. Hold on a minute! I kinda love translating, so that doesn't really sound like a viable option now, does it?
I'd love to hear your views on this subject. Are you using a Mac? Are you thinking of making the transition?
You may also like