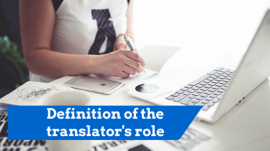 A new document was created and published earlier this month that offers descriptions of linguist roles, i.e. translators, interpreters and terminologists. A BIG THANK YOU to the five professional associations and the industry professionals (see at the end of this post for the names) who worked on and supported this project, which is a valuable resource to all linguists and our clients.
You can download and read the document in PDF format here.
Since our company offers mainly translation services, I wanted to highlight the Translator description, which also includes a description of what certified translators do.
TRANSLATOR
(from ATA's website)
"Translators work with the written word, converting text from a source language into a target language. This is far more than replacing one word with another. The translator must also convey the style, tone, and intent of the text, while taking into account differences of culture and dialect.
Often, the finished document should read as if it had originally been written in the target language for the target audience. But this is not always the case. Highly specialized content may require the translator to retain elements of the source language culture in the target language translation. A professional translator will have the expertise to know the best approach for the translation."
Translators must be familiar with the dialects, registers, and terminology needed for the type of translation project they are responsible for. When working in teams, translators may be responsible for editing, proofreading, summarizing, localizing, and transcreating.
(from the Interagency Language Roundtable website)
Translation "is a complex skill requiring several abilities. Consequently, extreme care must be exercised in hiring translators or assigning translation tasks to them. To do otherwise entails the risk that imprecise or even wrong information will be conveyed. Competence in two languages is necessary but not sufficient for any translation task. Though the translator must be able to (1) read and comprehend the source language and (2) write comprehensibly in the target language, the translator must also be able to (3) choose the equivalent expression in the target language that both fully conveys and best matches the meaning intended in the source language (referred to as congruity judgment)."
Certified translators can provide documentation indicating the certifying or assessment body, any subject area expertise, the proficiency level, the specific language combination(s) assessed by translation testing and the direction of translation permitted. Certified translators maintain their certification through continuing education credits and are bound by a code of professional conduct. When translation certification exams are not available for a particular language pair, sample translations reviewed by highly-qualified third parties may provide an acceptable practical alternative.
CONTRIBUTORS AND SUPPORTERS
Associations
Association internationale des interprètes de conférence (AIIC)
Mano a Mano
National Association of Judiciary Interpreters and Translators (NAJIT)
National Council on Interpreting in Health Care (NCIHC)
Oregon Society of Translators and Interpreters (OSTI)
Team Leaders
Helen Eby, Esther M. Navarro-Hall
Drafting and Editorial Team
Helen Eby, Esther M. Navarro-Hall, Carol Velandia, Milena Waldron
Contributors and Consultants
Jennifer DeCamp, Barbara Inge Karsch, Judith Kenigson Kristy, Uwe Muegge, Sue Ellen Wright
Further reading
On Advocacy: An International Joint Effort
Translator and Interpreter Descriptions
Header image credit: kaboompics
Header image edited with Canva
You may also like