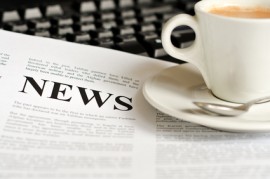 Every week we share on Twitter many interesting blog posts and online articles on translation, interpreting, language, as well as freelancing, blogging, business and social media. If you missed any of the great content we shared last week, here is your chance to catch up.
The content is listed in categories based on the topic, so just scroll down to find your favorite and enjoy reading! You can read the Weekly Favorites from previous weeks here.
If you read any fabulous posts that we missed, let us know in the Comments section or email us at info@linguagreca.com so we can add your links to next week's list.
Translation, Interpreting & Languages
Candid Letter from a Freelance Translator to a Client of a Certain Type
The ten worst things a speaker can do to an interpreter. Part 2.
Localization Should Be a Forethought: Five Tips for Success
The Essential Pre-Conference Packing and Preparation List
The Longest English Words to Ever Appear in Literature
7 Beautiful Words With No Direct English Translation
Keyboard shortcuts for German and French characters
The Translation Market – Is it Really Understood?
The Unicode Blog: CLDR Version 26 Released
Greek literature risks getting lost in translation
The new translation industry – Jost Zetzsche
Misconceptions and facts about translation
Multilingual Magazine: Free Subscription
Chris Durban and the Chamber of Secrets
10 least spoken languages in the world
Am I too old to learn a new language?
Writing information products – 4 tips
Apple Glossaries
Just Pay Me!
Greek
Μιλώντας για τη μετάφραση (στα αγγλικά όμως)
Freelancing, Blogging, Writing
70+ Source of Royalty Free Stock Photos for Your Themes, Website and Blog
The Content Marketer's Toolkit: 35 Tools You Can't Blog Without
What to do when you're completely overwhelmed
5 major freelance stereotypes, debunked
So you want to be a freelance writer
Are you leaving money on the table?
Social media, Marketing, Business, Networking, Web Design
How to Create a Content Strategy That Actually Drives Organic Traffic
The Seven Types of Email and How to Deal With Them
How to Overcome 18 Common Buyer Objections [Infographic]
Experts Tell All: The 20 Laws of Sales & Marketing
Being Honest With Yourself When Pricing Services
How Not to Leave a Sales Voicemail [Infographic]
The Importance of Thinking on Your Feet in Sales
Miscellaneous
40 Things That Will Definitely Happen To You When Moving To Toronto
50 things to do this fall in Toronto 2014
The Top 25 Must See Movies Of 2015
You may also like