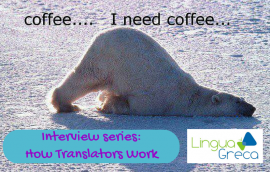 This series of posts was inspired by Lifehacker's How I Work series, which I've been reading for quite some time and thoroughly enjoy. It's about time we discover how our colleagues work and get to know them a little better.
If you want to participate in this fun series, email us at info@linguagreca.com for the Word template where you can fill in your answers & bio (incl. site/blog/social media) and then send it back to us as an attachment along with your photo (optional but preferred). If you don't like any of the questions, just delete them and add your own. Check out the previous interviews here.
Location: Caen, Normandy, France
Desired location: Actually, I quite like it here! I moved over here from Lancashire, England in January – Normandy was the first place in France I visited as a little girl, and coming to live here was somewhat of a 'dream come true' for me!
Current work title: Literary/Commercial Translator and Writer
Desired work title: Translator, Author, Renowned Promoter of World Literature and Queen of the Internet! 😉
Languages you have studied or currently speak: My working languages are French, Spanish and Italian into English. I've recently started to learn Latin, and would like to learn Catalan and Irish Gaelic one day!
The project you're most proud of: Most definitely my recent translation of a French novel, to be published next year. I can't wait to hold a real book in my hands that I've helped bring to an English market!
Your current computer setup: I recently upgraded to a Lenovo Yoga Pro, which is a high-spec touchscreen laptop and converts into a tablet. I have external peripherals and a dual monitor setup on my main desk. I find it very handy for travelling and it has actually had an incredibly positive effect on my work-life balance, leading to me actually leaving my desk from time to time!
Do you own a smartphone? Yes, and it's never far from me! I have one of the Microsoft 'dual-SIM' phones, which I find great for having a personal and business line (and avoiding midnight phone calls with enquiries from other time zones!)
Favorite time of the day: I like both sunrise and sunset. I especially like to be outside in the morning when it's sunny, but cold.
Favorite gadget (apart from computer & smartphone): Definitely my Kindle. It saves me a fortune on luggage charges when I travel, and enables me to fit hundreds of books in my handbag!
Next conference/event you're planning to attend: I'm very much looking forward to the Language Show Live in London in mid-October. I'd also like to get to the Translation and Localisation Conference in Poland next year.
How many hours per day do you usually work: This is somewhat of a difficult question… If I'm honest, some days it's most of them! However, things such as blogging, social media and keeping in touch with colleagues have all become so much a part of my everyday life since I started my business, that they don't necessarily feel like 'work' to me.
Are you an introvert or an extrovert? I'm definitely an introvert, I've read books on it! It's actually a huge bonus to me that I don't work in an office full of people every day. I did that for years, and didn't enjoy it! Being close to just a few people I really care about is enough for me. It's great that the translation community is so friendly, supportive and welcoming – all the positives of having colleagues, with none of the negatives! 😉
Are you an early-riser or a night-owl? At the moment, both! It very much depends on my projects. Living alone, it's not uncommon for me to plan my sleep patterns according to my deadlines! It's also my belief that I'm a better translator in the mornings, but a better writer at night!
What do you listen to while you work? My musical tastes are fairly varied! I am, however, a believer that I am much more productive if I listen to music while I work. My current 'work playlist' includes everything from soft rock (Fleetwood Mac, Patti Smith, The Pretenders, The Cranberries, Garbage) to country (The Band Perry, Kacey Musgraves, Gavin DeGraw, Sheryl Crow), right through to American and French rap! (Angel Haze, Iggy Azalia, Akhenaton, IAM).
Bonus question for localizers
Tell us a bit about your localization values: In any industry, content will be more successful if it is professionally localised for the target market by a native speaker. Content which does not sound natural and native could very well be a direct cause of loss of sales in the market in question. When working on localisation projects, I aim to produce native, natural and quality content which is appropriate to the target market.
And a few non-work related questions to get more personal.
Your babies or pets, incl. names and ages: I have a cat, Domino. He's five, and moved over from the UK with me.
Next city/country you want to visit: There are so many, it's hard to choose! I'd like to spend some time in South America one day, as well as the States, but there are also so many places in Europe I'd like to visit… Aside from the business trips I have planned, I think Switzerland may well be next on my list!
Favorite vacation place: Anywhere I've never been before!
Favorite book: Impossible question! It's between the 'Little House on the Prairie' series by Laura Ingalls Wilder (incidentally, I happen to be named after her!), 'Work: A Story of Experience' and 'An Old-Fashioned Girl' by Louisa May Alcott, and 'Heaven' by Virginia Andrews. That's the closest I can possibly come to picking just one!
Favorite song: Tracy Chapman – 'Fast Car', Fleetwood Mac – 'Go Your Own Way', The Jam – 'That's Entertainment', Jeff Buckley – 'Hallelujah', The Killers – 'When You Were Young' – again, picking one is impossible!
What are you currently reading? I've just finished 'Ernest Hemingway on Writing' for review on my upcoming blog post. Next on my list is 'Le Calvados des Écrivains', a book in French about the literary history of the region I live in, which I'm very much looking forward to reading!
Author bio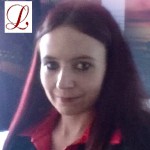 Laura Hargreaves provides literary and commercial translation, writing, editing, consultancy and literary promotion services in Caen, France and online at LanguagebyLaura.com. She also maintains a blog on translation, language, literature and business. You can connect with her on Twitter, Facebook or LinkedIn.
You may also like