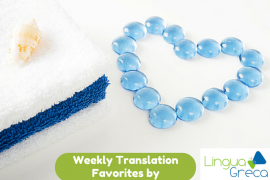 Every week we share on Twitter many interesting blog posts and online articles about translation, localization, interpreting, languages, as well as blogging, business and social media. If you missed any of the great content we shared last week, here is your chance to catch up.
The links are listed in categories and organized by subject matter. Scroll down to find your favorite and enjoy reading! Click here for Weekly Translation Favorites from previous weeks .
If you've read a fabulous post and would like to share, let us know in the Comments section or email us at info@linguagreca.com so we can add your links to next week's list.
Translation, Interpreting & Languages
Through the Eyes of Mad Patent Translator: Third IAPTI Conference
Keeping your business finances in check for freelance translators
What you can do during slow periods in your translation business
This is what happens if you can't afford a professional translator
Taking care of your body when you work at a computer all day
Localizing Your Online Assets: Challenges and Opportunities
5 cardinal sins that will land your translator CV in the bin
9 Essential Elements of Multilingual Website Design
15+ Of The Funniest Menu Translation Fails Ever
Instantly find all acronyms in a Word document
Adverse Selection And Information Asymmetry
How Five Ancient Languages Were Translated
How to write successful summary translations
Happy International Translation Day 2015!
My Tailored Sitting/Standing Desk Set-up
6 Ways to Learn a Foreign Language
Buddies Welcome Newbies at ata56
Linguistic conferences in October
Interview: Corinne McKay Part II
A Day in the Life of a Translator
Medical Translation Regulations
15 Words we Need in English
Podcasts to listen to
Greek translation & language
Ο μεταφραστής ως θεματοφύλακας (;) της γλώσσας – Διλήμματα και προβλήματα
Blogging, Writing
The Ultimate List of Websites Every Blogger Should Bookmark
How to Start / Create a Blog – Complete Beginner's Guide
Smart Networking Strategies for Freelance Writers
Social media, Marketing, Business, Web Design
Sales Enablement: 9 Essential Ingredients to Include in Every Sales Kit
Event Swag Your Attendees Will Love … and Loathe
The Top 7 Mistakes Companies Make With Clients
Actionable Social Media Strategies for Marketers
9 B2B Marketing Lessons from Inbound15
7 Ways To Fail At Twitter
Miscellaneous
A rare interview with the mathematician who cracked Wall Street
10 Common Tech Questions (and Their High Tech Explanations)
Why Now Is the Time to Start a Tech Company In Canada
From Poof to Proof: Inside the Mind of a Mathemagician
Apple iOS 9 – 60+ New Changes and Hidden Features
31 Stunning Photos of Sunday's Supermoon Eclipse
11 Bridges With Unbelievable Waterfall Views
The State of WomenInTech Groups in Toronto
Hack Your Nap! (Science-backed tips)
Life without emails – is it possible?
You may also like