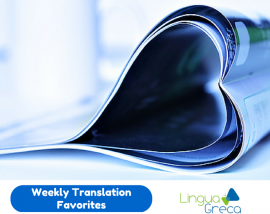 Every week (or few weeks) we share on Twitter many interesting blog posts and online articles about translation (including Greek translation), localization, interpreting, languages, as well as marketing, business and social media.
If you missed any of the great content we shared last week, here is your chance to catch up!
The links are listed in categories and organized by subject matter. Scroll down to find your favorite and enjoy reading! Click here for Translation Favorites from previous weeks.
If you've read a fabulous post and would like to share, let us know in the Comments section or email us at info@linguagreca.com so we can add your links to next week's list.
Translation, Localization, Languages
Dan Beachy-Quick Casts an Elegiac Look at Ancient Greece in "Stone-Garland" – Words Without Borders
DiscoverTranslation | A campaign to promote translation to audiences outside the language industry
[Smart Habits for Translators] Dealing with and Overcoming Serious Illness with Meghan Konkol
8 More Ways to Maximize Your Email Signature As a Professional Translator or Interpreter
How Ciena Makes the Internet Happen for Its Global B2B Clients with Julio Leal
Juggling work-life balance as a mum in localization: A homemade Italian recipe
Crash Course Linguistics 7 (Sociolinguistics) – Mutual Intelligibility Resources
What You Need to Know About Onboarding a Localization Vendor
Conference Report: How KTLC2020 Pushes the Dialogue Forward
LocFromHome II — Conference attendees share their takeaways
From Zero to Hero: Product Localization for Global Markets
The 12 French words that don't mean what you think they do
A Reading List for National Translation Month
[Recordings] Future of Function | GlobalSaké
5 Awesome Facebook Groups for Translators
Six Ways LSPs Can Foster Gender Equality
Quel avenir pour le traducteur humain?
Lessons in Localization: VMware
Greek translation and language
Μεζεδάκια της βασιλικής μέντας
Business, Marketing, Social media, Writing
Marketing to Humans: 5 Ways to Be More Personal in Your Digital Marketing
Here Are 5 Follow Up Email Examples (to Fix Your Follow Up Process)
International Marketing: Definition, Examples, and Strategies
Editor for Life: Lee Parpart, Editor at Iguana Books
Tech and other interesting posts
10+ Gmail Tips and Tricks to Get the Most Out of Your Inbox
How to Create a Useful and Well-Optimized FAQ Page
How I Built Resilience: Sonia Gil of FluenzLab
The untold history of macOS System Preferences
Stunning Photos Of All 62 U.S. National Parks
You may also like