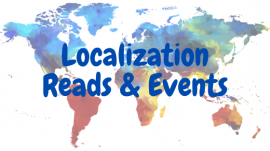 Our Translation Favorites series has a new name and updated look! Apart from great reads on translation, localization and languages, we'll be featuring unmissable (mostly related to languages, translation & localization) events that you can join for free. Click here to read Translation Favorites from previous weeks and years, and here for the Localization Reads & Events archive.
If you've read a fabulous post or you are hosting/attending an awesome free event, please email us at info@linguagreca.com so we can add your link or event in next week's list.
Upcoming free online events
Translation, Localization, Languages
Literary Translations and Crossword Puzzles Are More Similar Than You Think
International Sales Strategies: Getting it Right w. Key Hires, Frameworks, Timing, & Priorities
Beyond the Anglophonic: Strategies & Insights for Selecting Your Next Foreign Markets
Archie Crowley: Language around gender and identity evolves (and always has)
Kalika Bali: The giant leaps in language technology — and who's left behind
The languages with built-in sexism
Tech and other interesting posts
Are You Spending Your Parenting Time and Energy Wisely?
Why AI can't solve unknown problems
You may also like