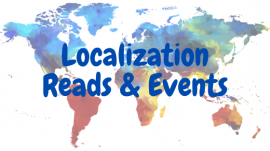 Our Translation Favorites series has a new name and updated look! Apart from great reads on translation, localization and languages, we'll be featuring unmissable (mostly related to languages, translation & localization) events that you can join for free. Click here to read Translation Favorites from previous weeks and years, and here for the Localization Reads & Events archive.
If you've read a fabulous post or you are hosting/attending an awesome free event, please email us at info@linguagreca.com so we can add your link or event in next week's list.
Upcoming free online events
Translation, Localization, Languages
The Fast Lane to Local: Culture, Localization Tech, Streamlining Processes, & Avoiding Bottlenecks
Motorola phones will now include endangered languages from Latin America
Dictionary of Lost Words by Pip Williams review – a gentle, hopeful story
The Evolution Of Localization: Why LangOps Is The Next Frontier
IBM Watson skills now include speaking nine languages
The keys to multilingual game development
Reimagining Software Localization
LocLife™ – Is Ageism Getting Old?
You may also like