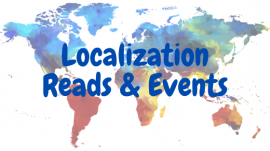 Our Translation Favorites series has a new name and updated look! Apart from great reads on translation, localization and languages, we'll be featuring unmissable (mostly related to languages, translation & localization) events that you can join for free. Click here to read Translation Favorites from previous weeks and years, and here for the Localization Reads & Events archive.
If you've read a fabulous post or you are hosting/attending an awesome free event, please email us at info@linguagreca.com so we can add your link or event in next week's list.
Upcoming free online events
Weekly on Friday at 12:00 ET

The Wordly Marketer Chat – by Kathrin Bussmann, on Clubhouse

July 27, 2021

Grow-to-Market: Global Talent & Innovation, by GetGlobal

July 27, 2021

Mindset Matters: Career Lessons, Advice & Tips with Jessica Chen, by Gemma Leigh Roberts

July 28-30, 2021

JuliaCon 2021

July 29, 2021

WLIE: The role of TMS in achieving SEAMLESS localization, by Women In Localization Ireland

July 29, 2021

Bridging Cultural Gaps Through Literary Translation

July 30, 2021

The Nuts & Bolts of Competing Globally: Hosting Content Around the World, by Engine

August 3, 2021

Building a Network (free for ATA members)

August 3, 2021

Develop Your Empathy to Develop More Accessible Apps

August 3, 2021

Edwin Morgan Translation Showcase, by Scottish Universities' International Summer School

August 4, 2021

Multilingualism in Audiovisual Translation: the Case of Jane the Virgin, by University of Stirling

August 4, 2021

Translating is not (only) problem solving, by University of Stirling

August 6, 2021

Road Map to an Interpretation and Translation Career, by SFU Continuing Studies

August 6, 2021

Book Review & Discussion : The Language Instinct

August 6, 2021

How to build your email list to grow your language business, via CIOL

August 13, 2021

Conversational AI & NLP Product Management

August 25, 2021

Revolution in Intelligence Affairs: Colloquium Series

August 25, 2021

A Conversation on the Impact of COVID-19 on Utah Women and Work, by Utah Women & Leadership Project

August 26, 2021

The Language of Resilience, by Tatiana Kolovou

September 3, 2021

5 Essential Contract and Rate Tips for Translators and Interpreters, via CIOL

September 14, 2021

Selling on LinkedIn – Live Training, by MAVERRIK®

September 21, 2021

Mastering Digital Sales – Business Development Goes Digital, by MAVERRIK®

September 24, 2021

Quality Assurance and Quality Control in Translation – Tips, tricks, and tools, via CIOL

November 13-14, 2021

Leveraging the Soft Power of the Global Hellenic Community, by Greek Scientists Society
Translation, Localization, Languages
Attackers can elicit 'toxic behavior' from AI translation systems, study finds
[Localization Academy] Data Driven Decision Making – Zachary Haitkin
Last Week in Localization: Is English enough when expanding abroad?
ModernMT: A Closer Look At An Emerging Enterprise MT Powerhouse
How Localization Can Help Solve Fintech's Trust Issue
Dispatches From a Microlanguage: An Icelandic Reading List
Writing for Translation | Mailchimp Content Style Guide
Gender-Neutral Pronouns Aren't New
Surprising shared word etymologies
It's time to make LQA design official
The pleasure and pain of spelling
Localization for the Rest of Us
Business, Tech and other interesting posts
Agreement Template for Editing Services | Editors Canada
You may also like