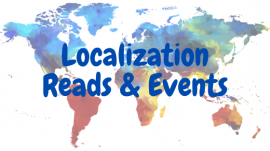 Our Translation Favorites series has a new name and updated look! Apart from great reads on translation, localization and languages, we'll be featuring unmissable (mostly related to languages, translation & localization) events that you can join for free. Click here to read Translation Favorites from previous weeks and years, and here for the Localization Reads & Events archive.
If you've read a fabulous post or you are hosting/attending an awesome free event, please email us at info@linguagreca.com so we can add your link or event in next week's list.
Upcoming free online events
Translation, Localization, Languages
The Book That Taught Me What Translation Was | In its attention to substitution, Domenico Starnone's "Trust" embodies the joy of moving words from one language to another.
Globalization is not a process; it is a cycle, and what seems like a subtle difference changes everything when it comes to shaping software development strategy.
New resource for language professionals translating for English- or French-speaking Canadian audiences
Do you know when to go with a Single Language Vendor or Multi-vendor strategy?
How to create a Localization Sphere of Influence (SOI) and why you need one
Improving the Translation Environment for Professional Translators
Is a graduate degree in translation or interpreting worthwhile?
Five things people get wrong about standard English
Choosing and Building A Specialization
Is Accent in the Mind of the Listener?
The neuroscience of translation
You may also like