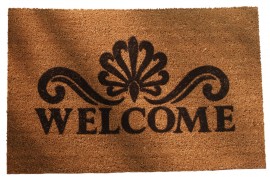 Dear visitor, before we get into what this blog is all about, we'd like to introduce ourselves. We are a (very) small team of 2 freelance translators. After years of working together, we decided to create a website (www.linguagreca.com) as a "one-stop shop" for Greek translation services. Below you'll find a few details about our background.
Meet Catherine
I was born and raised in Greece and have been a full-time freelance translator since 2001. Formal education wise, I hold a BA (Hons) in French & German from Anglia Ruskin University in Cambridge, UK, including 6 months in Cologne, Germany and 6 more in Paris, France, through the Erasmus European exchange program. To immerse myself in the British culture, I worked in Burger King (for far too long) and became a tester at a condom factory. Nope, my job wasn't what you're thinking. The job mainly consisted of checking the condoms for holes. It was unimaginably boring but the money was good (and my friends appreciated the free products).
Upon returning to Greece in 2001, I worked in the travel industry for 3 years and started my freelance translation business on the side. Yes, it was a lot of work doing two jobs at the same time, but I was young and eager. What did I know and cared about work-life balance? 🙂 In 2006, I got my Diploma in Translation (English-Greek) from The Institute of Linguists, UK. My working languages are English, French, German (source) and Greek (target) and specializations include IT, Telecommunications, Medical/Pharmaceutical and Gambling texts.
Meet Christos
The other half of this team, Christos, was born and raised in Greece and holds a BA (Hons) in Politics from the University of Bedfordshire, UK and an MA in Strategic Studies from the University of Reading, UK. All this education led to his spending 6 years in the UK. His student-day jobs include being a DJ for the Uni's Greek nights. According to him, the female attention was the best part of his job!
When he returned to Greece in 2003, he worked as a Training Instructor and a Consultant/Speechwriter for a while. It wasn't long before he realized those jobs would never provide him with the freedom -in terms of time and money- to travel extensively or have a decent life, so he made the wise decision to become a freelance translator. He became a full-time freelance translator in 2004 and hasn't looked back since! His working languages are English (source) and Greek (target) and his specializations include IT, Gambling, Medical and Government texts.
Our blogging topics
Now that we've covered who we are, it's time to tell you about this blog and why we've started it. This is our place to show existing and potential clients that we know our stuff, help people interested in starting a freelance translating business with insights on the industry and share our views and opinions on things that relate to our work and interests.
The topics will include translation, languages, freelancing, blogging, social media and travel. Did I mention that Christos and I are big travel buffs? We travel a lot in Greece and around the world, so we'll be writing about the beautiful places we visit and how we manage to keep up with our translation business while traveling, even though that means staying in the hotel lobby for most of our trips. All we really want to do is share our experience and lessons learned from our years in the translation & freelancing field. Hopefully, we'll manage to give you an insight into the exciting (at least that's our experience!) lives of freelance translators.
Thank you for visiting our blog.
Do come back because we're gonna be blogging up a storm baby!
You may also like