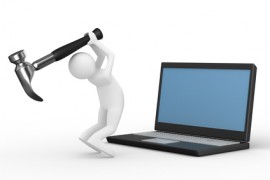 About a month ago, I decided to buy my first Mac, a MacBook Pro. Why? Well, a couple of the presentations I attended during the 2010 ATA conference convinced me that it was the right move for my business and from then on it was just a question of when really. I also thought it was time to learn and try something different from the PCs I've been using all these years. After all, technology doesn't wait for you, you have to constantly keep up with and explore new software and hardware! Plus, the MacBook is soooo slick!
So, here I was, with a rather old laptop running Windows Vista and MS Office 2003 and a brand new MacBook Pro. Given that I use my computer mainly for work, I was now facing the task of migrating from the PC to Mac in order to get the most out of my new high-tech "gadget". Most importantly, I had to find a way for my translation applications to run on my Mac.
Trados on Mac?
Well, it wasn't an easy process: Simply put, Trados (Translation Memory software) doesn't run on Mac. This was something I first heard about 3 years ago, but I thought a patch or something would have been made available by now. After all, most of our fellow translators on the other side of the pond use Mac, so there had to be a way around it, right?
Well, there certainly are ways but they're not easy. You can overcome this issue in two -problematic- ways:
The first one is to use Mac's built-in feature called Bootcamp. Bootcamp creates a partition in your hard drive, where you can install another operating system (in my case, Windows 7). That way, you can choose to reboot the Mac on Mac OS or Windows. The good thing about that solution is that in essence you have two operating systems in one computer. The bad thing is that you have to reboot your system every time you want to switch between OS.
The second solution is to buy a program that creates a Virtual Machine (VM) in your Mac (in my case, Parallels Desktop for Mac). That way, you can install Windows on the VM and run it from within Mac OS. So Windows will be just another application in your Mac desktop. While this solution eliminates the need for constant rebooting each time you want to change OS, it doesn't use the full potential of your RAM, so Windows will be slow.
A way around it
What about combining the two solutions? What if you use Bootcamp to make a new Windows partition and then Parallels to have a VM in your Mac for lighter Windows applications? After I spent a weekend reading about potential solutions on the Internet, I decided to give it a try.
I used Bootcamp to create a new Windows partition. I installed my brand new copy of Windows 7 and Office 2010 on that partition, plus Trados Studio and Trados 2007 after returning my previous licenses to SDL first. I was now having a PC on my Mac. "Sweet" I thought. Parallels was up next. The installation was smooth and, before I knew it, I had a new VM on my Mac. "Not bad" I whispered, not wanting to jinx my good luck thus far!
But wait! A notification appears every time I open Windows on Parallels that I must register my copy of Windows 7 and Office 2010. I am sure I registered both when I created the Bootcamp partition! Hmm…
After another day of googling, I found out what was wrong: Microsoft somehow cannot accept that I am using the same copy of Windows 7 or Office 2010 on my Bootcamp partition and the VM! I, on the other hand, didn't think that I was violating the License Agreement by running Windows via two different ways on the same computer.
A dead end
I had to choose to keep either the Bootcamp partition or the VM or buy a second license from Microsoft to use on the VM. Sorry dear Microsoft, but no way. I uninstalled the VM and kept the Bootcamp partition. This way I'm at least able to use Trados on Windows, although it's a pity really that SDL is not working on a Mac version of Studio. Since my clients are not using any other TM software, I am stuck with the Bootcamp partition for now. Hopefully there will be a solution to this dilemma some time soon!
Now that my biggest problem has been solved, it was time to familiarize myself with the Mac. And let me tell you, that presented it's own set of challenges!
Stay tuned for part 2 and my PC to Mac journey. In the meantime, tell us about your first experience with a Mac. Did you adapt easily or did it take time?
You may also like