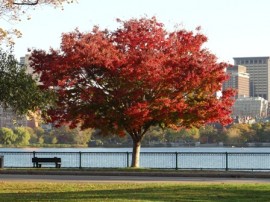 Our recent trip to Boston (Google images) for the 52nd Annual conference of the American Translators Association was a great opportunity to experience of one of America's oldest and most historic cities. Boston, which was founded in 1630, was the location of several major events during the American Revolution, such as the Boston Massacre and the Boston Tea Party. It's also the birthplace of four US presidents, most notable of which was JFK. And, as many proud Bostonians would tell you, Boston is also the home of the Celtics and the Bruins, the winners of 17 NBA titles and 6 Stanley Cups respectively.
This history is evident throughout the city. The reason for that is its early founding and its compact size. You can walk the 1.8 miles from the New England Aquarium (at the port) to Marriott Copley Place, where the conference took place, in about 1 hour. The walk would take you past some of Boston's finest attractions, such as Faneuil Hall, Quincy Market, Boston Common and Newbury Street. In essence, you'd see three different neighborhoods during this walk (Financial District, The Common and Back Bay).
We decided to stroll around the city after visiting the aquarium and our feeling was that Boston is a very picturesque city. Part of this was due to the fall colors throughout the city and especially around Boston Common and the adjacent Boston Public Garden. Combined with the Victorian-style architecture, especially in Back Bay, the feeling you get is that you are walking in the streets of Paris rather than in an American city. This is a beautiful garden we saw, decorated for Halloween, right by the original Cheers! bar.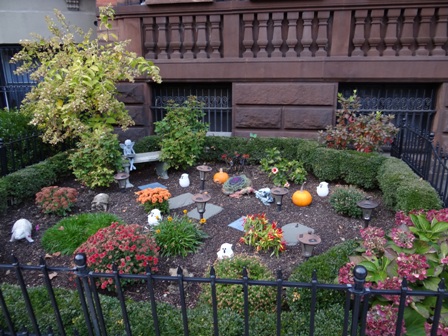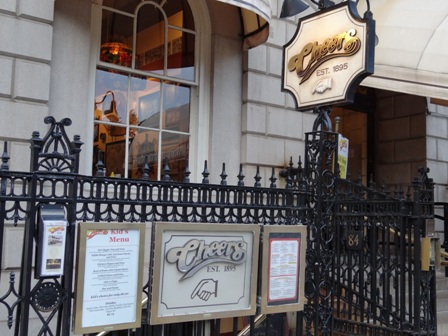 The fall foliage was one of the first tips we got (by a very polite TSA agent at the airport) and although we didn't have time to visit some of the special places where you can see this phenomenon in full force in the rest of Massachusetts, Boston delivered: it is amazing to see a tree with green, red, orange and yellow leafs, let alone lots of trees with different colors, one next to the other! It is a spectacular sight, lets you think of nature in a whole different way… In Greece, we pretty much have summer and a short winter only, so we don't experience the full four seasons. It is also so refreshing to see beavers and birds walking side by side in huge parks, dog-owners playing catch with their dogs, people enjoying their books in benches.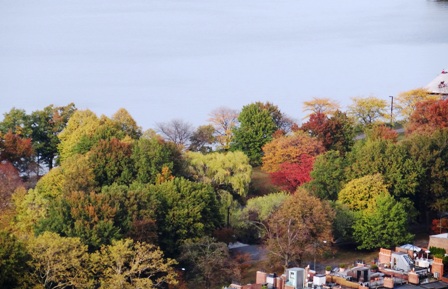 A nice cup of coffee or a tasty lunch/dinner is always the perfect end to a long walk, and guess what: Boston is full of nice coffee-shops and restaurants. Our favorite place – not for coffee, but for hot chocolate – was Max Brenner. Nice atmosphere both inside and outside, friendly staff, and great chocolate. You can choose a lot of different types (dark, white, with coffee or without etc.) and you can also buy their trademark cups and chocolate products on the spot. The posters on the wall make the whole experience even more interesting. Our favorite one was this: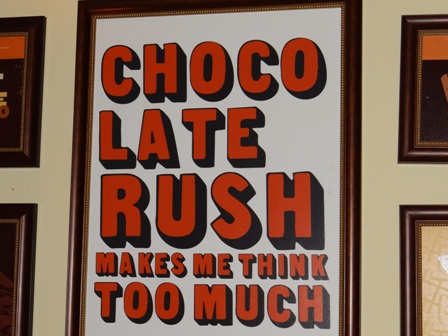 Good food is also a tradition in Boston. There are many restaurants, including those serving various ethnic cuisines. We wanted to taste something American, yet we decided to skip Legal Sea Foods, a New England institution that offers gourmet seafood dishes. So, the highlight of our culinary experience was Charleys. An excellent restaurant on Newbury Street, with great American food, reasonable prices and friendly staff. The atmosphere inside the restaurant was classic (as you'd probably expect from a restaurant that was established back in 1968) and the food was yummy. This local restaurant also offers a take-out service, which came in very handy after the conference sessions.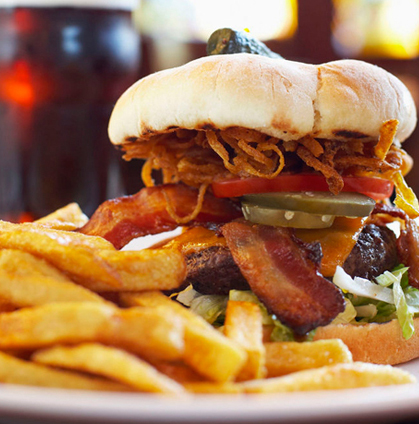 Image credit: Charleys
In general, Boston was a great destination. The proper mix of "old" and "new", the ideal time of our visit (not too crowded, not too cold, just in time for the fall foliage), the many interesting sites and monuments, its compact size and its vibe offered us an amazing travel experience. We definitely recommend visiting Boston if you haven't been there yet. You won't be disappointed!
In the meantime, if you were there for the conference or you have visited Boston, do share with us your experiences. What did you like? What did you see? How did you like the atmosphere of the city? Did you enjoy the food? Will you visit it again (or for the first time) in the future?
You may also like