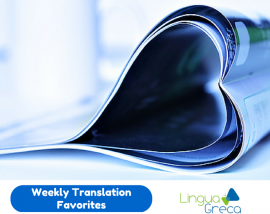 Every week we share on Twitter many interesting blog posts and online articles on translation, interpreting, language, as well as freelancing, blogging, business and social media. If you missed any of the great content we shared last week, here is your chance to catch up.
The content is listed in categories based on the topic, so just scroll down to find your favorite and enjoy reading! You can read the Weekly Favorites from previous weeks here.
If you read any fabulous posts that we missed, let us know in the Comments section or email us at info@linguagreca.com so we can add your links to next week's list.
Translation, Interpreting & Languages
Confessions of a g11n Veteran – Social and Mobile Apps and Globalization i18n L10n
An Apple a day… (aka: my ITI's Computing in Nick's attic article: my gears)
Plain language and translation – guest post from expert in plain language
Translating using voice recognition and SDL Trados Studio 2011
What Are The Present and Future Challenges Facing Translators?
Ein Plädoyer für Untertitel – Sprachen lernen durch Fernsehen
Whenever I Hear Agency Owners Griping About Translators…
If you are Lost in Translation… Find a way out!
"So I've got my interpreting degree – now what?"
Lesson 15: Dear Santa… – on gifts for translators
Sounds Familiar? Accents and Dialects of the UK
Interpreting Marketplace Study Available for Free
Tips for Translators: Payment Arrangements
Moving out of my comfort zone
This Week's Language Blog Roundup
SDL Trados Forum in Brussels
Tips for Translators: Delivery
Myths: Language is not writing
Can translators ignore theory?
Ten things for which I am thankful
55 Synonyms for "Criticize
Translations as Strangers
The Limits Of Language
Building Blocks
ATA's 52nd Annual Conference
ATA Boston 2011: Video Highlights
Freelancing, Blogging, Writing
The Freelancer's Holiday and Year-end Dilemmas Revisited
8 Reasons Freelancers Should Charge More Than Employees
10 Writing Mistakes that Will Guarantee Your Blog's Failure
20 More Unconventional Ways to Spice Up Your Blog
Want More Gigs? Try Walking in Your Client's Shoes…
Why Choose an Online Freelance Writing Career
How to Ace Your Next Freelancing Job Interview
5 Exciting Career Tracks for Freelancers
Should Freelancers Outsource?
How Twitter Makes You A Better Writer
The Pros and Cons of Being a Freelancer
How to Grow Gracefully
Social media, Web Design & Business
The importance of networking for your business – in person and through social media
The Blogger's Guide to Meaningful Engagement on Facebook, Google+, and Twitter
20+ Helpful Google+ Brand Page Resources for Freelancers
How to Create a Google+ Business Page in 5 Simple Steps
7 Marketing Lessons You Can Learn From The Simpsons
Is Today's Technology Affecting Your Social Skills?
9 ways to charm the pants off your audience
Get to Know Google+ Brand Pages for Business
10 Tips and Tricks for Better Google+ Brand Pages
Making the most of your LinkedIn profile
15 ways to attract Twitter followers
Travel & Miscellaneous
What 11/11/11 Looked Like On Twitter [VIDEO]
Spirited shopping: 5 great cities for Christmas markets
Is The Internet Awake? [Animated Infographic]
Top 10 Must-Have Gloves For Geeks
Five of the best seaside film locations
What are 10 Addictive Types of Content?
You may also like