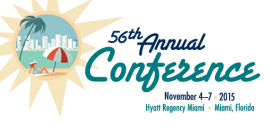 Another year, another amazing ATA annual conference! 1,600 translators and interpreters from 52 countries got together a few weeks ago to network, meet friends, learn and have fun in hot and gorgeous Miami.
I had the honor of presenting twice at the conference. My first presentation was about social selling and the second was on how to find clients using LinkedIn.
You can check out the slides below, download them from SlideShare (click on the titles to go to SlideShare) and in case of any questions, you can email me or contact me through social media.
YouTube videos about the 56th and 57th ATA conferences by Derek Platts
ATA 2015: Miami Conference Recap
ATA 2016: What to expect in San Francisco
Further reading about ATA's 56th conference to remember the good times or to see what you missed
How #ATA56 Rocked!
Lessons Learned from ATA 56th Annual Conference
What I Loved About #ATA56 in Miami
ATA virgin no more
A huge thank you to everybody who attended my presentations. The live-tweeting was once again unbelievable. Someone at the conference right after my first presentation told me "I missed your session but I read all about it on Twitter" 🙂 Special mention and a big hug to Sandy Jones, the queen of live-tweeting! Check out some of the live-tweets during my presentations:
You may also like