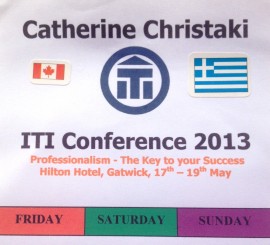 It's been 2 weeks since the ITI conference in Gatwick. Finally, it's time to tell you all about the great time we had there. How come it's always so busy work-wise a few days before a trip or a conference and a few weeks after you return? Does that happen to you too? Must be some kind of radar clients have and they get anxious that you might not be available to accommodate their translation needs 🙂 Back to the conference.
Facts and details
Organiser: Institute of Translation and Interpreting
Theme: Professionalism – The Key to your Success
Dates and venue: May 17-19, 2013, Hilton hotel, London Gatwick Airport, UK
Twitter accounts @ITIUK and @ITIConference, hashtag: #ITIConf13
Photos by ITI, and by Levent Yildizgoren, here and here
You Tube post-conference video by ITI
200 attendees, 25 one-hour sessions and 4 three-hour preconference seminars and numerous fringe events. Check out the full program here.
The organization was superb and everything worked like clockwork; from the pre-conference online registration to receiving the session pdf presentations/handouts post-conference (2 weeks after the conference). Christos and I attended many of the presentations but it'd take a lot of posts to talk about them all. Have a look at the program and abstracts, as well as the #ITIConf13 tweets to see what you missed 🙂
My favorite moments
Meeting Twitter and Facebook friends in person
It's so funny and exciting meeting someone in person for the first time after befriended them and having talked to them numerous times online or through emails. You can't believe you are really seeing their actual face, it's surreal! We kept laughing about that with Rose Newell when we finally had a proper chat a few hours before our flight back to Greece. And they all look exactly like their photos, you recognise them instantly! You don't introduce yourself, proffer your hand and say hi. You go for the hug and kiss (watch out for the cultural differences; I've startled lots of translator friends by hugging them excitedly and then going for the standard Greek two left-to-right kisses).
Chris Durban's masterclass: Working the room
There aren't enough words to describe what it's like to hear Chris speak. Every single word she says is a gem, a practical tip that sounds so logical and easy you have no excuse not to implement it. Three hours with her was like a 2-week intensive sales workshop. My head is still buzzing with ideas… I'll tell you all about her presentation and useful advice in an upcoming article, stay tuned.
Update: Check out the article about Chris Durban's masterclass here.
The Singing Translators
Amazing moment during the closing session when translators and interpreters with beautiful voices and singing abilities gave a beautiful performance. Check out the YouTube video.
Multicultural dinner
Champagne cocktail to start, great variety of delicious food from several different cuisines and the Caroliners who gave everybody sparkly hats and taught us how to line dance.
Jules's professional photography studio (fringe event)
What a great idea to invite a professional photographer and offer the attendees the chance to have their photos taken for their websites, blogs, promotional material etc. People have been posting their photos on Twitter and Facebook since last week and the results look amazing! Christos took advantage of this opportunity and I can't wait to see his photos!
All in all we had a marvelous time and already look forward to next year's ITI conference. What about you fellow attendees? What were your favorite conference moments?
P.S. If you're wondering the Canadian flag in my badge, it's because there were no UK or US flags left to show our source language (and we are huge Canada fans, so it was a win-win).
Further reading
Reflections on the ITI Conference
ITI Conference 2013 London – The Key for Success
2013 ITI Conference – were you there?
You may also like