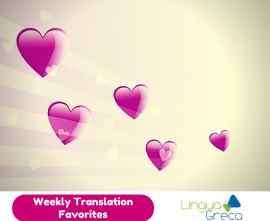 Every week we share on Twitter many interesting blog posts and online articles on translation, interpreting, language, as well as freelancing, blogging, business and social media. If you missed any of the great content we shared last week, here is your chance to catch up.
The content is listed in categories based on the topic, so just scroll down to find your favorite and enjoy reading! You can read the Weekly Favorites from previous weeks here.
If you read any fabulous posts that we missed, let us know in the Comments section or email us at info@linguagreca.com so we can add your links to next week's list.
Translation, Interpreting & Languages
Choose the translation agency to fit your marketing needs: 10 Steps to a successful experience
Is My Blog Attracting New Customers Or Instead Driving Potential Customers Away?
Cartoons and Blog Posts About Translation Under Your Christmas Tree!
Spare a Thought for Your Interpreting Teacher (Part 1 – Consecutive*)
Living in a Town With No Downtown in a Universe That Has No Center
Freelance translator's lifestyle — Getting ready for the holiday season
5 Bilingual Data Resources That Work With Your CAT Tool
Machine Translation Will Not Replace A Specialized Translator
The Wait Is Over: Mox Illustrated Guide to Translation
3 Steps to Define Target Audience for a Localization Project
Simplify your business tasks in 2012 with some templates
Technical Translating With Style – by Danielle Maxson
Six Ways to Get the Most Out of Your Translation Career
Tips for Translators: Meeting Deadlines with Ease
How to write a successful CV for the translation industry
4 Tips for Audio Services at Multilingual Conferences
Plain English Movement around the World
Professional Associations for Literary Translators
Advice for a new translator on job hunting
Are Translation Apps at All Useful?
Heads in the Cloud? Or somewhere else?
Lesson 20: So you want to be a project manager
Translation Studies – some afterthoughts
How can Twitter facilitate language learning?
A Day In the Life of Mad Patent Translator
Words of the Year 2011: Fritinancy Edition
Best Practices for Centralizing Translation
Lesson 19: Terms and conditions for translators
2 Decades of Words of the Years
Why context matters
AutoSuggest: How Does It Work?
The Thing We Mean is Love
The latest lingo buzz…
Freelancing, Blogging, Writing, Web Design
When Should You Launch Your New Blog? [Complete or On the Go?]
How to Devise the Perfect Freelancing Social Media Strategy for You
4 Post Headlines that are Guaranteed to Get Readers Excited
How to Find the Right Freelancer for the Job
Sex, Lies, and the Art of Commanding Attention
How You Can Simplify Your Freelancing Business
Excellent Tips for Branding Your Blog
Your Online Business Planning Session: Part One
Your Online Business Planning Session: Part Two
Quoting Well, Part 3: Dot Dot Dot
20 Free Tools for Entrepreneurs
50 Words for "Writing"
What Doesn't Wash
Social media, Marketing, Business
Job Searching 2.0: How To Use Twitter To Connect With Potential Clients
International social media marketing is more than just a Facebook page
9 Ways to Improve Customer Communication on Your Website
The Benefits of Using Social Media to Market Your Business
How to Really Use Twitter to Find More Freelance Work
The Power of +1: Google+ for Small Businesses
The Top 10 Marketing Infographics of 2011
Is RSS Dying?
Travel & Miscellaneous
10 DIY Thoughtful & Inexpensive Handmade Holiday Gift Ideas
Casinos Around the World [infographic]
Snegurochka / Snow Maiden
12 Hilarious Closed Signs
You may also like