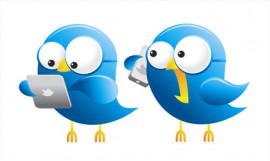 Sophie Dinh, member of APROTRAD (Association PROfessionnelle des métiers de la TRADuction), recently translated my 10 Common Mistakes on Twitter post for the May issue of the APROTRAD newletter. It is a pleasure and an honor to re-publish it here for the French-speaking readers of this blog. At the end of the post, you'll find a short presentation of APROTRAD. Enjoy!
J'adore Twitter. Je l'ai déjà dit et je continuerai sans doute jusqu'à ce que j'aie convaincu tout le monde d'y adhérer. Si vous ne twittez pas encore, découvrez les multiples avantages (en anglais) à côté desquels vous passez ! Twitter est un outil prodigieux pour rencontrer des personnes formidables, pour renforcer votre présence en ligne et pour développer votre réseau. Mais attention : de mauvais choix peuvent vous empêcher de l'apprécier à sa juste valeur et vous conduire à l'abandonner, voire à indisposer vos abonnés.
Voici quelques points à prendre en considération pour éviter les erreurs les plus courantes sur Twitter.
1. Usage professionnel ou privé ?
Si vous souhaitez aborder ces deux facettes de votre vie, je vous conseille d'avoir deux comptes séparés. Vos amis ne trouveront guère d'intérêt à lire l'actualité de votre secteur d'activité, et vos contacts professionnels se moquent éperdument de votre prochaine conquête amoureuse, de ce que vous avez mangé ou de la fabuleuse plastique de votre petit ami !
2. Les tweets personnels
Évitez de partager trop d'informations personnelles sur votre compte pro (cf. point n° 1). Mais postez tout de même de temps à autre un tweet qui rappellera à vos abonnés que vous êtes un être humain et non un robot. Après tout, c'est le meilleur moyen d'entamer une relation avec ceux qui vous suivent (cf. point n° 3).
3. Pas d'échange
L'un des principaux intérêts de Twitter réside dans la possibilité d'échanger avec vos pairs. Cela peut commencer par une question (ou une réponse à une question posée), une remarque ou une opinion sur quelque chose que vous avez lu, etc. J'ai commis cette erreur (ne pas participer aux échanges) ces derniers mois par manque de temps, mais me rappelle avec plaisir les précieuses conversations que j'ai eues avec mes contacts sur Twitter.
4. La fonction Retweet
Personnellement, je n'utilise pas le bouton Retweeter. Je préfère prendre le temps de transférer un message manuellement, à l'ancienne. Concrètement, je copie le tweet ou le titre d'origine en premier, puis le lien, le nom de l'auteur et enfin la personne qui a envoyé le tweet (et en dernier, bien sûr, le hashtag correspondant). Je trouve cette méthode idéale car tous les intervenants sont cités. L'auteur et le twitteur initial voient tous les deux votre RT dans leur onglet Mentions, ce qui augmente vos chances d'entrer en contact avec eux.
5. Votre nom d'utilisateur
Votre nom d'utilisateur doit être facile à retenir. Votre pseudo Twitter est aussi important que votre nom commercial, le titre de votre blog, etc. Il peut vous aider à créer des liens avec les autres.
6. Votre profil
La plupart des utilisateurs omettent de renseigner leur profil, et c'est dommage. Pourquoi le laisser vierge ? Il suffit d'ajouter quelques mots sur votre personnalité, votre activité, un lien vers votre site web, etc. C'est la première chose que vos abonnés potentiels vont lire. Que révèle un profil vide sur la personne que vous êtes ?
7. Votre avatar
Vous avez gardé l'image anonyme par défaut de Twitter ? Remplacez-la par une jolie photo professionnelle (c'est le mieux), par le logo de votre entreprise, voire par un visuel qui reflète votre personnalité (sans en faire trop).
8. Ne multipliez pas vos abonnements trop vite
Prenez le temps de choisir les personnes que vous avez envie de suivre. Vous ne faites pas une course : suivre des centaines de personnes simplement pour accroître vos chances d'être vous-même suivi, c'est assez réducteur, en termes de bénéfices ! Et quelle image renvoyez-vous à ceux qui consultent votre profil avant de décider de s'abonner à votre fil ?
9. Les chiffres ne sont pas une fin en soi
L'intérêt de Twitter réside dans son contenu, dans les relations qui s'instaurent. Ne vous focalisez pas sur le nombre de vos abonnés, le nombre de vos abonnements ou le nombre de tweets que vous avez postés. Efforcez-vous plutôt de partager des contenus pertinents, et vous verrez les chiffres augmenter d'eux-mêmes !
10. Messages privés automatiques
Vous cliquez sur « Suivre », et un message privé arrive instantanément : « Bonjour, merci de me suivre ! » ou bien « Visitez mon site web pour en savoir plus sur moi » ou encore « Téléchargez mon e-book incontournable »… Agaçant, n'est-ce pas ? Votre première impression est que vous venez de vous abonner à un spammeur. Voulez-vous que les autres pensent cela de vous ? Non, bien sûr. Alors n'utilisez les messages privés que lorsque c'est réellement utile.
J'ai commis certaines de ces erreurs à mes débuts, mais j'en ai peu à peu tiré des leçons. Surtout, il n'y a pas de recette miracle pour bien utiliser Twitter : faites vos propres expériences pour trouver l'utilisation qui vous convient et vous plaît.
Et vous ? Faites-vous aussi ces erreurs ? Constatez-vous des comportements inappropriés parmi vos contacts sur Twitter ?
Ne manquez pas la suite de ce billet, 10 (nouvelles) erreurs à éviter sur Twitter dans quelques semaines. D'ici là, tweetez bien !
Translator bio:
Sophie Dinh is a freelance English to French translator with over 14 years experience under her belt, specializing in orthopaedic implants and blogging on life in the world of translation both from the translators (peers) and businesses (customers) perspectives. She likes to try out the latest communication tools like Twitter. Also, being a member of a professional association of reasonable size (APROTRAD), she believes it is critical to remain connected and to help both new translators starting their business and established ones to further their training and remain informed on the various areas relevant to their everyday work.
APROTRAD is a not for profit association of translators and interpreters created in 1993, which promotes and champions the interests of the profession and offers training to its members.
APROTRAD has around 50 members: translators, interpreters, translation companies, related professions representatives.
APROTRAD is a member of the Grand maillage (network of professional associations in the Centre region of France), of EFIP (European Forum of Independent Professionals) and of CAPIL (Coordination des associations de professionels indépendants libéraux [coordination of associations representing freelance professionals]).
APROTRAD has always been involved in various projects in the translation industry, in particular:
discussions around the potential creation of a 'status' for translators at the end of the 1990s (http://www.oocities.org/aaeesit/statut1.html) with many other translators' associations;
drawing up of the EN 15038 Quality standard for Translation services – Service requirements;
and currently EFIP.
You may also like