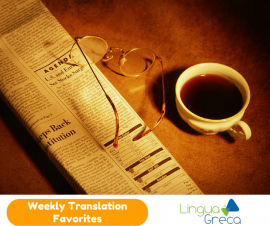 Every week we share on Twitter many interesting blog posts and online articles on translation, interpreting, language, as well as freelancing, blogging, business and social media. If you missed any of the great content we shared last week, here is your chance to catch up.
The content is listed in categories based on the topic, so just scroll down to find your favorite and enjoy reading! You can read the Weekly Favorites from previous weeks here.
If you read any fabulous posts that we missed, let us know in the Comments section or email us at info@linguagreca.com so we can add your links to next week's list.
Translation, Interpreting & Languages
Court interpreting for migrant community needs in Maine, USA – a focused approach
It's easy to translate anything, all you have to do is supply the right words
10 More Awesomely Untranslatable Words From Around the World
The ten worst things an attorney can do to a court interpreter. Part 1
Indiana Jones with Software: Computers Revive Dead Languages
Thesis published on vague language (VL) in ASL and English!
5 ways that social media benefits writing and language
View the recordings from the #i18n & #L10n Conference
Internationalization and Localization iOS Plurals Library
Even More Historically Legendary Translation Blunders
Survey: Calling those commissioning legal translations
Languages on the internet: The keenest Wikipedians
Language blogs: 50 worthwhile blogs on linguistics
How to Split and Merge Segments with OmegaT
Translators: How do you Define your Success?
People who rock the industry – Ildikó Santana
Guess the Name of the Translated Movie Title!
When to Use "That," "Which," and "Who"
Invaluable New Interpreting Resource
Bien calculer ses délais de paiement
How Much Will It Cost? Part II
Quotation marks for emphasis
Language, lies and statistics
How to assess interpreting
Why I Joined Smartling
Interpreter of Maladies
A Bizspeak Blacklist
Dressing for Prison
Banking glossaries
Wörterbücher
Freelancing, Blogging, Writing
101 Resources to Rock Your Freelance Writing World
How to Write Interesting Content for a "Boring" Topic
Moving from in-house to freelance? Read this first
Lessons Learned From an Experienced Freelancer
Learn to touch type online – review of Type Fu
Social media, Marketing, Business, Networking, Web Design
How To Be Sure You Have A Strong Social Resume [Infographic]
10 Ways to Engage Your Audience on Social Media Today
26 Ways to Use Visuals in Your Social Media Marketing
5 Marketing Myths That Are Killing Your Business
6 Benefits of Running Social Media Contests
How to get TOUGH with client problems
14 Twitter Mistakes to Avoid
Miscellaneous
List of gestures and their meaning/use in different cultures
Why I Stopped Pirating and Started Paying for Media
Five Great RSS Reader Alternatives To Google Reader
Guys and … ?
You may also like