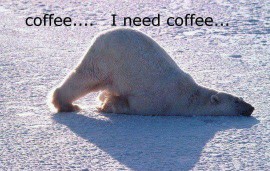 This series of posts was inspired by Lifehacker's How I Work series, which I've been reading for quite some time and thoroughly enjoy. It's about time we discover how our colleagues work and get to know them a little better.
If you want to participate in this fun series, send us an email at info@linguagreca.com so we can send you the Word template where you can fill in your answers and your bio (incl. your site/blog/social media links) and then send it back to us as an attachment along with your photo (optional but preferred). If you don't like any of the questions, just delete them and add your own. You can read the previous interviews here.
Location: New York City
Desired location: Somewhere warmer
Current work title: In-house translator / freelance translator & business owner
Desired work title: Minus the in-house!
Languages you have studied or currently speak: German, English, French
The project you're most proud of: I worked on the PBS documentary "Jesse Owens" which won an EMMY this summer
Your current computer setup: Toshiba Satellite, Windows 7
Do you own a smartphone? I love my iPhone
Favorite time of the day: Evening, night
Favorite gadget (apart from computer & smartphone): My coffee maker
Next conference/event you're planning to attend: Definitely ATA55
How many hours per day do you usually work: 10? 12? Depends on the project
Are you an introvert or an extrovert? I'm the biggest extrovert there is!
Are you an early-riser or a night-owl? I don't sleep much so I guess night owl per default
What do you listen to while you work? Classical music! It calms me down and lets me focus. Nothing with words, too distracting from the words I am translating!

And a few non-work related questions to get more personal.
Your babies or pets, incl. names and ages: No babies, no pets 🙁 (single and pet hair allergies), but I consider my business my baby 🙂
Next city/country you want to visit: Greece
Favorite vacation place: Rome
Favorite book: I love dictionaries
Favorite song: Anytime I am down -> Don't stop believin' by Journey
Favorite food: CHOCOLATE (especially when translating is tense and a deadline is looming!)
What are you currently reading? The December issue of Glamour magazine
Author bio

Sandy Jones is the owner of Sandy Jones Translations, a fabulous one-woman translation company located in the heart of New York City. Native in both English and German, Sandy specializes in technical, commercial and legal translations, but has a thing for WWII terminology (and coffee & lots of chocolate!). You can find her on Facebook (SandyJonesTranslations), Twitter and LinkedIn (sandyjonestranslations).
You may also like