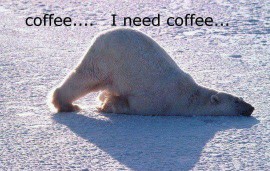 This series of posts was inspired by Lifehacker's How I Work series, which I've been reading for quite some time and thoroughly enjoy. It's about time we discover how our colleagues work and get to know them a little better.
If you want to participate in this fun series, send us an email at info@linguagreca.com so we can send you the Word template where you can fill in your answers and your bio (incl. your site/blog/social media links) and then send it back to us as an attachment along with your photo (optional but preferred). If you don't like any of the questions, just delete them and add your own. You can read the previous interviews here.
Location: Belgrade, Serbia
Desired location: Vancouver, BC, Canada
Current work title: Applied linguist/English to Serbian, Croatian and Bosnian translator
Desired work title: Forensic linguist (after I finish my PhD thesis)
Languages you have studied or currently speak: I currently speak mostly Serbian, Croatian and English. I learned German in high school and Macedonian at the University, but I've never improved my knowledge. My mother is from Slovenia and my father is from Bosnia, so I grew up listening Slovenian and Bosnian.
The project you're most proud of: Finishing my MA thesis in translation while working full-time as a language teacher at IB College and part-time freelance translator. For months, I have been sleeping for 3 or 4 hours and still managed to get everything done on time and with the highest quality.
Your current computer setup: Desktop PC (only one screen for now), Samsung notebook with Windows 7 and 17" Dell Inspiron laptop that served his time and needs to be retired.
Do you own a smartphone? Yes, Samsung Galaxy S2. I love being connected to internet all the time.
Favorite time of the day: Early morning on a hot summer day
Favorite gadget (apart from computer & smartphone): Kindle reader since I really love to read and it comes handy when I need to bring with me those 200 books that I need to write my thesis. Also, I love my mp3 player that helps me avoid irritating public transport sounds.
Next conference/event you're planning to attend: FIT XXth World congress in Berlin (August 2014), but I'm also thinking about going to Athens linguistics conference at the beginning of July.
How many hours per day do you usually work: It varies. Sometimes I work 16 hours a day, but in the last few months I'm trying to cut it down to 10 hours. I always make plans to have a weekend off, but it looks like some of my clients remember me only on Friday afternoon.
Are you an introvert or an extrovert? Although I enjoy presenting papers at conferences and meeting new colleagues, I have to say I'm introvert. Chatting with people or just being in the crowd always consumes my energy and after that, I need to spend some time alone to reenergize and enjoy the silence.
Are you an early-riser or a night-owl? In the summer, I like to get up early and finish the majority of the work before it gets too hot. In the winter, when the day is short I prefer working up late at night and sleeping longer in the morning.
What do you listen to while you work? Various music on Spotify. It's a great service and it allows me to listen everything that comes to my mind, from Vienna Philharmonic Orchestra and evergreen music to Disturbed and Dream Theater.

And a few non-work related questions to get more personal 🙂
Your babies or pets, incl. names and ages:  No babies. I had a dog Tobi (miniature poodle, 12 years old), but he passed away few months ago. He was my best friend, a dear member of our family and a single day doesn't go by without me thinking about him.
Next city/country you want to visit: Vienna, Austria. I have always wanted to attend the end of year concerts of the Vienna Philharmonic and I hope one day I will start a year surrounded with the lovely audience clapping to the rhythm of Radetzky March.
Favorite vacation place: Chalkidiki Region, Greece. It has the most beautiful beaches, clear and warm sea and Greeks are always kind and hospitable.
Favorite book: Age of iron by J.M. Coetze
Favorite song: It is a tough choice. I'll have to say "Unintended" by Muse and "The Ministry of Lost Souls" by Dream Theater
What are you currently reading? "Wordcrime: Solving Crime Through Forensic Linguistics" by J.Olsson and "In Business As in Life, You Don't Get What You Deserve, You Get What You Negotiate" by C. L. Karrass
Aleksandra Milcic Radovanovic is English to Serbian, Croatian and Bosnian freelance translator specialized in technical and medical translation. She has a BA in South Slavic languages and literature, MA in translation and is currently working on her PhD thesis in Forensic Linguistics. She is also interested in computational linguistics and natural language processing. You can follow her on Pinterest.
You may also like