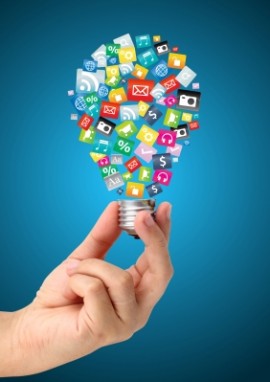 Challenges in Social Media Translation
Why social media
Two months ago I started to work at HootSuite, a Canadian company that created a social media management tool. Although my background is translation, the passion for social media led me on this new professional path. Super excited of being immersed in this social media world, I found myself actually doing a lot of translation. Seems like we can't run from our destiny after all. And this is perfect, since I can now work on two of my greatest passions: languages and social media.
Translating material about social media is a lot of fun, but also a challenging task. Now more than ever I find myself dealing with words that don't exist in my language. Although this problem has always been central in my studies to the extent of becoming also the subject of my Master's dissertation ("Non equivalences in marketing") I am now facing a new set of challenges. These challenges inspired me to write this article, and since Catherine is a huge social media fan, her blog seemed to me the perfect place to talk about this.
What is social media?
I don't know if there is someone who still doesn't know what social media is, but just in case, a quick recap: social media is a new communication system that allows people to connect with each other online. It started with MySpace, it bloomed with Facebook, and it grew with LinkedIn, Twitter and many others. It is also a system that has completely changed the relationship between people and brands. Unlike advertisement, where companies were trying to catch the attention of customers, social media allows people to share their interest, allowing brands to understand their customer behavior instead of trying to change it. Well, this is at least the way I see it.
What are the challenges of translating in the social media field?
The main challenge of social media is the new terminology that it introduced. All the main players are American companies, and they have shaped the jargon of this system in English. There are other players of course: VK in Russia, RenRen in China and a few others. But Facebook, Twitter, Linkedin, Google Plus, Instagram, Pinterest and so on and so forth are English based social networks, and they use a very peculiar terminology.
Few examples: on Facebook you "like" an article, but you can also count the "likes". A page can have 100 likes and it simply means that 100 people clicked on the "like" button. How do you translate "likes" in your language? Do you have an exact equivalent? In Latin languages we don't: in Italian, Spanish, French and many others we have to say "I like". In those languages we have to say something funny as: "How many I like do you have on your page?" It is a creative way to tackle a problem of non-equivalence at a structure level. We do have the word "like", but the structure we use is different.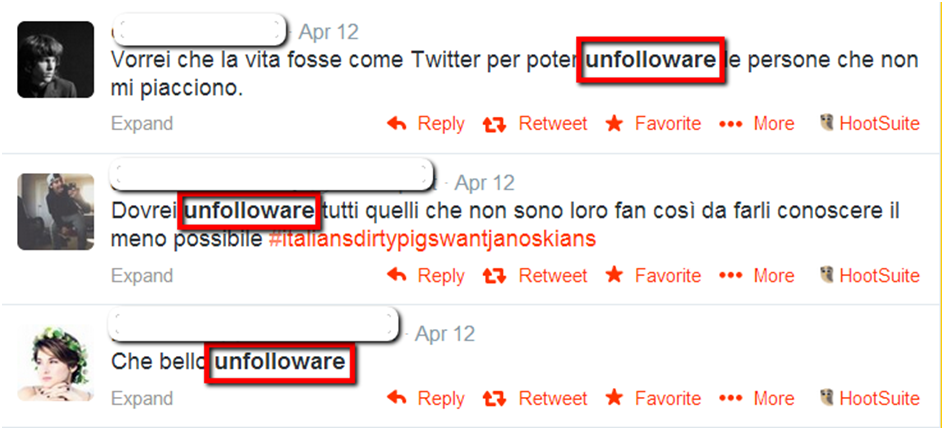 Another example. When we send a message on Twitter, if we are English we say "to tweet". If we are Spanish, we say "tuitear", if we are Italian we say "twittare", if we are French we say "tweeter". This is a different kind of non-equivalence: all languages have the verb "to tweet", but it refers to the sound of birds. Now we are using it in a different way, so we can't use the direct translation, or we would say "cinguettare" in Italian, "gorejar" in Spanish, "gazouiller" in French and so forth.
On the same social network we have another great example: the verb "to unfollow". This is, again, part of the specific jargon of Twitter, were you "follow" someone and then you unfollow them if you don't want to see their news anymore. Well, what solution did people adopt? They didn't simply use a loan word (a translation strategy according to which you use the exact original word in the new language) but they didn't even translate it: they integrated it into the language, creating a new, funny word: "unfolloware".
Pinterest, one of my favourite social networks, works around the concept of "pins".

In plain English, it is a pin is a small object that you can use to save important documents on a pin board. The idea of Pinterest is pretty much the same: Pinterest is a huge pin board where you can pin stuff that you find online and want to remember. Now, besides the fact that every language has a name for that object, does your language have a specific name to indicate the things you pin? Does it have a specific word for the verb "to pin"? In my language we don't, so of course the creative process began and new, creative words were born: "pinnare" "repinnato" and other new-born words appeared on the Italian internet, a cute mix of the two languages.
The creative process
Behind this little funny word there is a creative process that shows us how languages really work. Languages are more fluid than we sometimes want to admit. I like to compare this process to a person who move to another country. If you travel to another country at first you feel foreigner. Then you start adapting to the new culture and finally you start interacting with it, creating a new identity for yourself: a mix of your old and new self.
Another beautiful image to explain this process is the graft in botanic, where a new branch is grafted into a plant of another species and a new type of flower will be born. With languages is the same. When two languages merge and the target language lacks a lot of terms, a creative process happens and a new vocabulary is born.
What techniques should we use?
In this case adapting to this creative process is, for translators, the only possible technique to translate properly. There is no one effective technique that can be applied everywhere in this field, we only have to observe what languages do naturally and adapt to it. If people started to use the foreign words as loan words, let loan word be.
If they use three or four words to express a concept normally expressed by one word, then we know we have to do the same. The only difference is that we know the name of this technique (amplification or expansion) while people use it without knowing they are applying a translation technique.
If they integrate the English word in their language and create a new term, for how funny it can sound this is what we have to use. If it is too funny, sometimes I write it into italics just to let the reader know that it is a linguistic experiment. There is no right or wrong here, we simply have to make the concept clear to the readers.
We have to remember, especially if we are new as translators, that the ultimate goal of our work is not using all the fancy-named translation techniques that we learned in the books. The aim is creating a text that sounds familiar to the reader. If sometimes we have to change the source language to achieve this goal, don't be afraid of doing so. The original text is not a sacred book that can't be touched. The original text has been produced in a specific cultural context and although we have to make sure to deliver the same message we also have to make sure it sounds familiar to the people who will read it.
Accuracy is an overrated goal, it is probably the wrong goal. Given the challenges that we face in translating social media material we have to set another goal for our work, and that is to give our reader the same colored, simple, fun, enjoyable experience that they could have if they were using social media networks in English.
Image credit: freedigitalphotos.net, KROMKRATHOG, image ID: 100182079
Author bio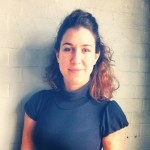 Chiara Grassilli – Since an early age has been passionate about languages. She holds a Master's degree in Translation and Interpreting, and has worked as a freelance translator for several years specializing in Digital Marketing, Web and Social Media. Her passion for Social Media led her toward a career in that field, and she is currently working as Social Media Coach at HootSuite. She also loves blogging and runs the blogs wetaliasocialmedia.com and chiaragrassilli.com.
You may also like