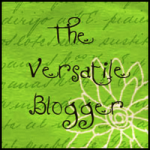 Last month, Lisa Carter, author of a culture of language and thought, nominated me for the Versatile Blogger Award. What an honor for a newbie blogger like me and especially coming from Lisa, who I highly respect and admire!
If you are interested in translation, whether it's your professional line of work or you aspire to become a translator, Lisa's blog offers an amazing plethora of information and resources, along with great guest posts. The second reason I admire Lisa is her fascinating story about becoming location independent, something I'm hoping to achieve soon. You can read all about her experiences in Millivers Travels.
Official rules of the award
1. Thank the award-giver and link back to them in your post.
2. Share 7 things about yourself.
3. Pass this award along to 15 recently discovered blogs you enjoy reading.
4. Contact your chosen bloggers to let them know about the award.
Seven things about me
1. I've always wanted to be a translator. I started studying foreign languages at the age of 7 and even tried to translate a book (Little house on the prairie) a year later using a small dictionary. Naturally, I failed miserably and stopped after the first few pages but I was fascinated by the whole process!
2. I lived with a British family with 2 other kids in Canterbury and attended a British school for a month at the age of 8. School was ok, even though I was hopeless at cricket, and home life was ok too but the food was so different than my mom's tasty Greek cuisine.
3. Having been raised in Crete, I've had more than my share of sunshine and warm weather (life in Athens isn't much different). So, my favorite weather is rain and that's why I miss British weather.
4. I adopted my kitten, Ozzy, after finding him hidden under the hood of our car following a 1-hour driving trip.
5. I don't like watching TV, but I love movies and going to the cinema. My favorite movie is The Big Blue.
6. I've been to 2 Final Four competitions and in both occasions the team I was supporting (Panathinaikos) brought home the trophy!
7. After many attempts to wake up early and sleep before midnight, I've finally accepted that I'm a night owl and prefer to work at night.
And the Award goes to…
These are my favorite (recently discovered) blogs
KeyCheck Translation Blog by Anna Lycett @amkiciak
The Interpreter Diaries @InterpDiaries
A Pragmatic Eye by Charlie Bavington @cbavington
Financial Translation Blog by Miguel Llorens @miguelllorens
Wordyrama by Konstantina Drakou @wordyrama
Localisation and testing with Curri by Curri Barcelo Avila @Currixan
Freelance Writing Dreams by Samantha Gluck @texascopywriter
Freelance Factfile by Carole Seawert @FreelanceFacts
Your Best Adventure by LaRae Quy @LaRaeQuy
I hope you visit and check out these great blogs. Feel free to share your favorites in the Comments below so I can add them to our Blogroll.
You may also like